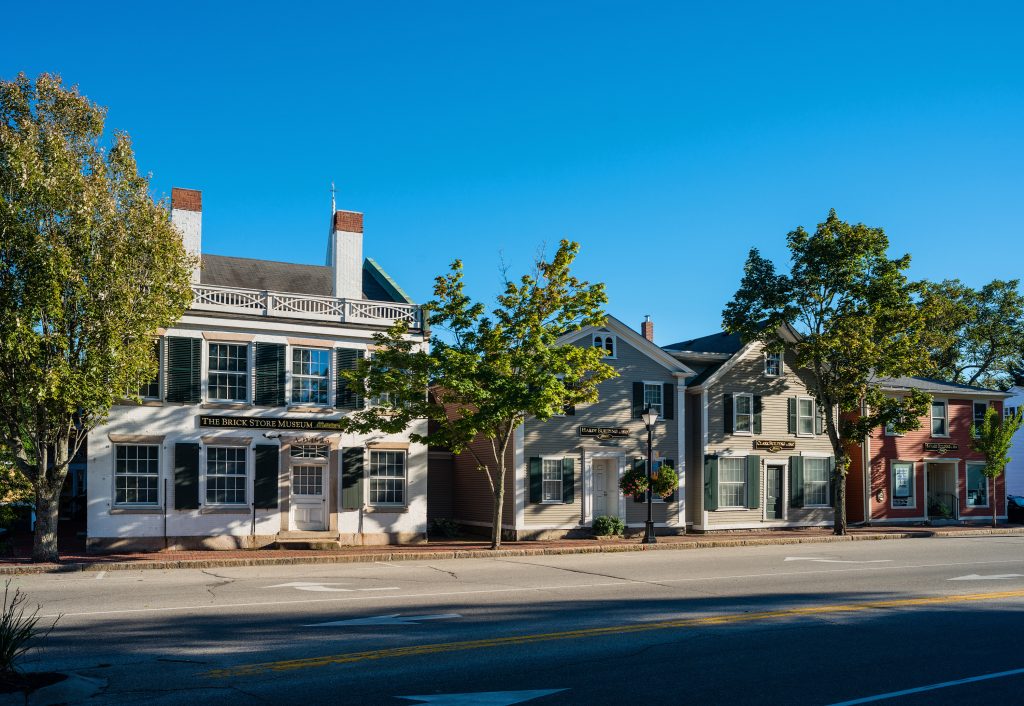 The Museum Today
The Brick Store Museum is an active, community museum focusing on local history, art and culture of the Kennebunks and our surrounding communities.
The Museum's Collections hold over 70,000 artifacts relating to regional history. This Museum is open year-round to offer rotating exhibitions, monthly educational programs and tours, historic preservation and archaeology projects, and community events.
The Museum recently announced our new logo to represent our community mission of past, present and future. The Museum's professional staff, volunteers and Board of Trustees look forward to seeing you soon at the Museum.
Museum Mission
The Brick Store Museum ignites personal connections to local history, art and culture through exhibitions, education and programs celebrating the human experience in the Kennebunks and our surrounding communities.
Museum Vision
The Museum is a place for everyone, educating visitors on the history of today to build a better tomorrow. Our purpose is to inspire audiences to become empathetic global citizens in an era that requires increased understanding of other peoples and cultures, and an appreciation of our shared humanity. In this goal alone, we must succeed in expanding access to the Museum's resources to all populations.
Strategic Plan
Since 1936, the Brick Store Museum has celebrated local history, art and culture from our buildings on Main Street, in the heart of the historic district. Our Strategic Plan focuses our energy, resources and time to move the institution toward our sustained future as your community museum. You can read our entire plan here.
Museum History
Why is it called the "Brick Store"?
A man named William Lord was born at Kennebunk Landing in 1799. In 1820, William married Sarah Cleaves of Biddeford, and they lived at 20 Summer Street. The home still stands and is now known as the William Lord Mansion, a private residence. It was here that William and his wife raised their large family of ten children.
In 1825, at age 26, William Lord began construction on a dry goods store on Main Street in Kennebunk – the very building that is today the focal point of the Brick Store Museum. The building was unusual for its time because it was constructed of locally-kilned brick. Brick was a far more expensive choice, rather than constructing from plentiful Maine timber. Evidence of the building's past (as a dry goods store) still remains upstairs: a windlass (or pulley system) used to hoist heavy goods is visible through a skylight (take a peek when you visit!).
William Lord's great-granddaughter, Edith Cleaves Barry (1884 – 1969) was an artist and world-traveler. In 1932, she  inherited the building and founded the Museum on the second floor of the building on July 1, 1936. Edith soon realized she needed more space, and in the 1950s purchased three neighboring historic buildings on the block. These buildings date from 1810 to 1860.
The Museum was one of the few institutions in the country to open during the Great Depression; and remains one of only 21 museums in the entire United States (out of the more than 35,000 museums today) to be founded by a single woman.