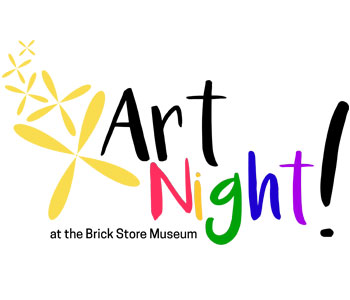 The Brick Store Museum was founded by American artist Edith Cleaves Barry in 1936. Part of its nonprofit mission is to celebrate local arts and artists, in addition to local history and culture. In 2019, the Museum announced a brand-new program that invites the public to celebrate and explore various forms of art. The program, simply called "Art Night!," is free and takes place on the second Friday of every month from 5pm – 8pm, June through September.
Friday, June 14th will mark the kick-off of the series. Events during the free evening include:
– Exploration of "The Art of Cute" exhibition, presented by Portland's Illustration Institute;
– The opening of the new Bauman Family Gallery contemporary art exhibit, "Pop Up Paper!" by Christina Record, which includes whimsical cut-paper 3D artwork;
– A free art workshop (for all ages!) called "Experimental Ink Practices," crafted by All Hands Collective: As children we experiment with art by exploiting color. Whether we are given two crayons or twenty, we always want to use them all. But how far can we push our experiments if we do away with color? Using black ink we will pay with texture, contrast and unorthodox tools to explore a world without color.
– The opening of Capshore Photography's semi-permanent installation of traditional and aerial drone photography. Amy Welch-Olson and Dan Olson are a Southern Maine photography duo specializing in content-creation, travel documentation and social media takeovers. They bring a new perspective to local photography, and will be at the Museum sharing their work during the Art Night! event.
Stay tuned for food and beverage offerings – the best way to learn more about new events at the Museum is to visit www.brickstoremuseum.org!
Art Nights! are made possible through the Museum's Business Partners (join here):
Kennebunk Savings, Captain Lord Mansion, Clark Insurance, Captain Jefferds Inn, Huntington Common, Hussey Seating Company, Home & Away Gallery, Waldo Emerson Inn, Cherie's, The B&B Team, Inn Consultants and Brokers, 1802 House Bed and Breakfast, Garrett Pillsbury Plumbing & Heating, Maine Stay Inn and Cottages, Atria Kennebunk, The Nonantum Resort, Huston & Company, Boulangerie, A Proper Bakery, Tourist & Town, Weirs Buick GMC, ANDREWSMILLIGAN real estate company, and Raylene Sousa, Medium.