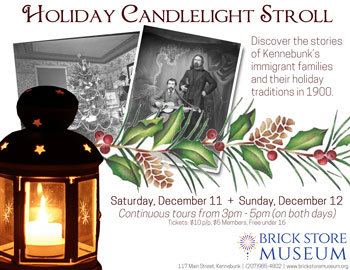 Enjoy the sights, sounds and joy of the season!
Explore the stories and traditions of 19th century Kennebunk's immigrant families. Visitors will walk through the Museum's campus to meet the Rosinsteins of Russia, the Tvedts of Norway, the Nests of Germany, the Dubes of Canada, the Berrys of Ireland, the MacDonalds of Scotland, and the Blanchards (Malkis) of Syria, all of whom immigrated to the Kennebunks to work in the labor and mill industries.
The tour ends in the Museum's Dane Street Program Center where visitors can taste different holiday desserts from the cultures and countries they explored during the tour.
+
Unable to attend the in-person event? Check out our Virtual Series: Candlelight Stroll Parts I and II, featuring Kennebunk stories circa 1900 of many of the immigrants living downtown and sharing their holiday traditions for Christmas, Hanukkah, and New Year's Day.
+
Plan your visit: the Candlelight Stroll occurs on the second Saturday of December. Please find tickets via our Calendar.

+
Interested in volunteering as a guide, performer, or event support? Learn more and sign up.
+
Would you like to sponsor or support this program? Contact Cynthia Walker at cwalker@brickstoremuseum.org or (207)985-4802.