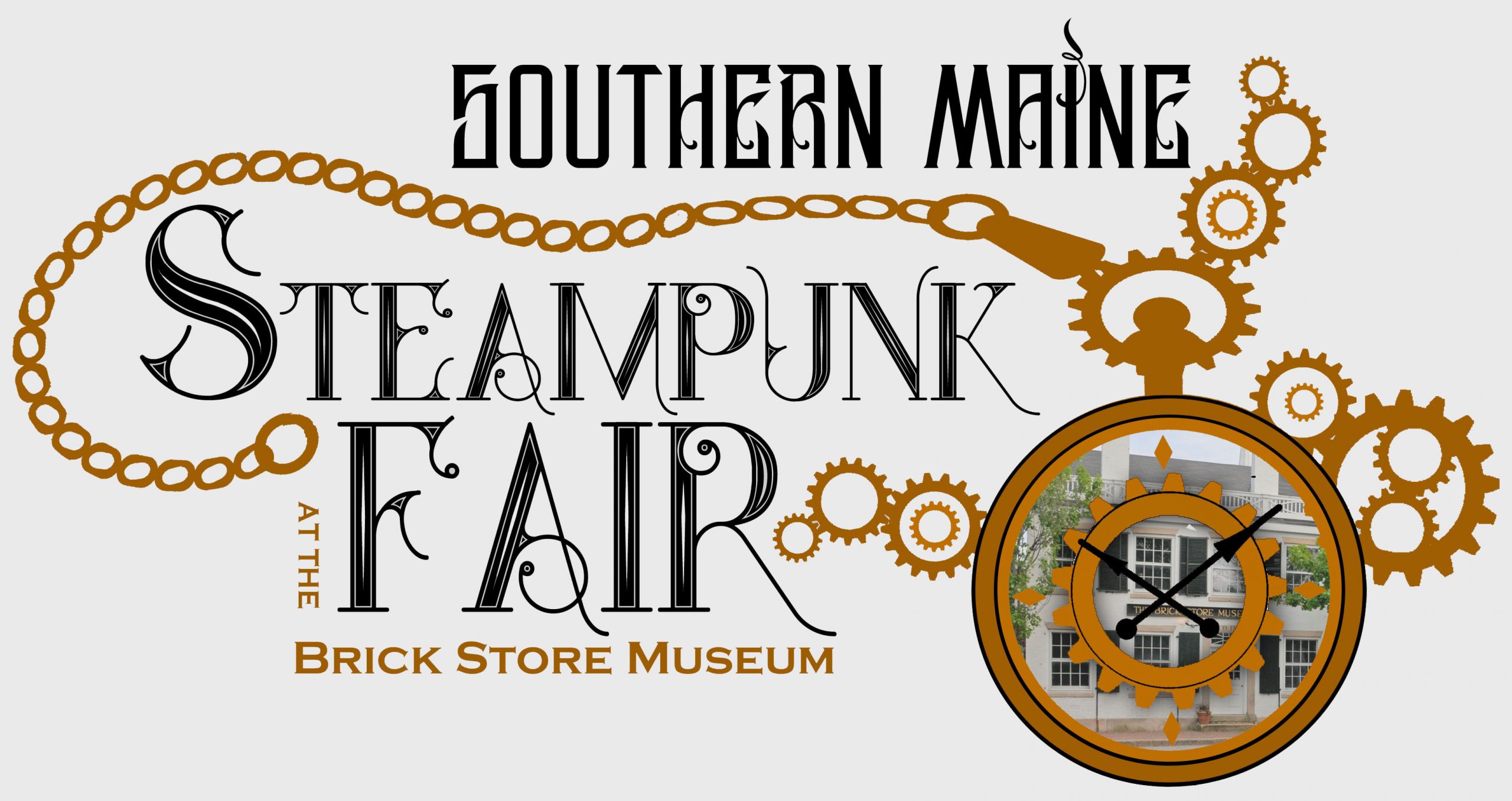 7th Annual Steampunk Fair | Coming Saturday, August 14, 2021!
It's back for 2021! The Southern Maine Steampunk Fair, now in its 7th year, returns as the Museum's most popular and unique events.
Vendors, performers, and lecturers all return to the Museum to celebrate the art of Steampunk, a niche aesthetic that blends Victorian steampower with the future.
This year, the event takes place Saturday, August 14 from 11am to 4pm.
Tickets are $5 each and are a major fundraiser for the Museum. Ages 12 and under are free.
HEALTH NOTE: Due to the rising case numbers of COVID-19 in York County, the Museum continues to monitor safety. At this time, we ask that all visitors wear  masks when indoors; and outdoors if in crowded areas while unvaccinated (or if you're just more comfortable wearing one). We are working to ensure that most of the Fair takes place outside. Thank you for your patience and cooperation.
Schedule of Events:
Your $5 ticket gets you unlimited access to:
Jules Verne's "20,000 Leagues Under the Sea," filmed in 1916, with new musical score! Movie snacks and treats sold at the door! Showings at 11am and 2pm.
Lecturers:

Paula Gallucci, costume designer, "Researching & Design for Historic Costuming" (11am)
Professor Elizabeth DeWolfe, University of New England, "Women's Industry & the Work of Hair Jewelry in the 19th Century" (12pm)

In this illustrated talk, we'll explore how and why women crafted elaborately braided jewelry from human hair to remember their dearly departed, to seal friendships among the living, and to demonstrate feminine virtues.

Professor Libby Bischof, University of Southern Maine/Osher Map Library, "Victorian America Through Bird's Eye Maps of Maine" (1pm)

Live Music – Bellamy Jazz Band (2-4pm)
Throughout the day:
Vendors & artists
Costumes!
"What is Steampunk?" Learning & Imagination Station
Rug hooking demonstration station
Explore museum exhibitions
Free make + take activities!
Vendors on Display:
Victorian Secret
Photos by Thaddeus
Light Q Creations
Clockwork Caboodle
Gilded Butterfly Studios
Scarin' Aaron's
Eternity Key Jewelry
Voltaire Design Studio
Sister Moon by Sarah
Lamented Vignettes
Dragonfly Wings & Artsy Things
Check out the Museum's 2020 Virtual Fair to see videos, activities, and links to Steampunk makers before the big day!
Learn More:
Plan your visit: the Southern Maine Steampunk Fair occurs annually on the second Saturday in August. Please find tickets via our Calendar.

+
Interested in volunteering as an event volunteer? Learn more and sign up.
+
Would you like to sponsor or support this event? Contact Cynthia Walker at cwalker@brickstoremuseum.org or (207)985-4802.