Legacy giving (also called planned giving) can be a powerful and meaningful way to leave a philanthropic legacy that helps ensure our future and fulfill our mission. A gift is "planned" when a donor purposefully decides to incorporate a charitable gift into his or her financial or estate plan. This means that you will continue to live comfortably during your lifetime, while making sure your estate has the most impact in the future.
Planned gifts make the Museum strong. It means that our educational mission will be able to continue for years to come.
Everyone that makes a planned gift to the Museum becomes a member of the 1936 Society.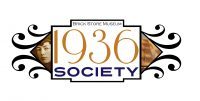 Benefits of joining the 1936 Society include:
Lifetime membership in the 1936 Society
Invitations to special events honoring the members of the 1936 Society
Special recognition in the Museum's annual report
The satisfaction of knowing your generosity will inspire future generations
For many people, the easiest way to make a planned gift is through a bequest, a provision in a will directing one's wishes in regards to the disposition of assets. A bequest allows you to make a long-term commitment without affecting your current standard of living. You can arrange to leave a bequest to the Brick Store Museum by designating on your will either a specific amount or a percentage of the residue or your estate. In addition, one can designate the Brick Store Museum as a beneficiary of a revocable trust or retirement plan.
You can learn more about strategies from the Museum's Treasurer, Chris Penfield, in the video below.
Although planned giving is a common and easily-accomplished method of making a charitable contribution, the information provided here is not intended as legal or tax advice. Planned giving documents should be prepared in consultation with your attorney, accountant, and/or estate planner.
If you have questions, would like to discuss your plans, or would like a copy of the Museum's Gift Acceptance Policy, please contact Cynthia Walker, Executive Director, at cwalker@brickstoremuseum.org or (207) 985-4802.
Build Your Legacy Through Effective Planning