Looking to sign into the Member Resource Portal? Click here.
Museum membership invites you to become a "regular" at the Museum and use its resources anytime it's open, year-round. Membership funds support the Museum's mission and operations. In return, members receive the following benefits:
Membership Benefits
Free admission, six days per week, year-round (explore…)
Passes to give out to friends and family
Free admission to signature lectures and Historic District Walking Tours
Click on the categories below to learn more.
The Sustaining Friends program spreads out your support over the year and comes with special benefits, such as NARM Membership, which allows you to visit over 900 museums across the country for free!
Select "Sustaining Friend" above to get started.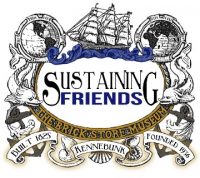 You can join or renew easily online by selecting your level, above. For mail, please print the Membership Form (PDF) and send it to the Brick Store Museum, 117 Main Street, Kennebunk, ME 04043.
Find our complete Membership Benefit Booklet (sent to every new member) here.
THANK YOU!
Members are essential in helping us on our journey to present new exhibitions and scholarship, sustain our historical buildings, enhance educational programming for all generations, and provide access and care to our unparalleled collections. As a Member, you share in what you've helped to create and sustain.
As a member of The Brick Store Museum, you are personally invested in supporting the Museum's mission to preserve and present the history of the Kennebunks through exhibitions and educational outreach initiatives. Your involvement helps to protect and promote the important artifacts and history that are an integral part of the region's past and future.