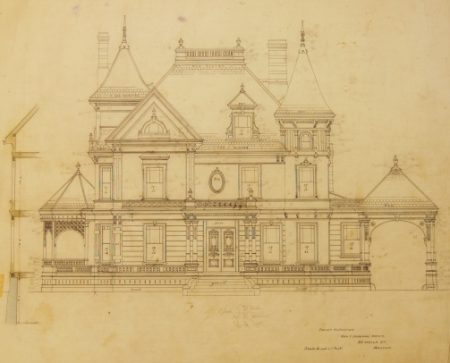 The Museum serves as Kennebunk's historical society. Extensive primary source materials ranging from diaries and family papers to commercial records, maps and architectural drawings attract researchers of all ages. Particularly significant are more than 3,000 historical photographs and vintage postcards, plus indexes for Kennebunk-built ships, local history subjects and genealogical collections. Area newspapers dating back to 1877 exist as bound originals and/or have been digitized.
A section of the archives is devoted to Maine authors, with sizable collections pertaining to Sarah Orne Jewett, Kenneth Roberts, and Booth Tarkington. Institutional records chronicling the Museum's own history are rich in materials pertaining to the life of artist and Museum founder Edith Cleaves Barry (1884 – 1969).
Explore the Archives
View our archival finding aids, and family genealogy listings  to learn more about the Museum's research collections. Visit the our Digital Learning Center for engaging content using our archival collection.
Oral History Projects
The Museum is digitizing its oral history collection. You can explore featured recordings via our Oral History Digital Collection.
Volunteer!
The Museum holds over 35,000 pieces of archival material, including photographs, writings, publications, ledgers, and more relating to local history. Volunteers are incredibly important to discovering our past. As an Archives Volunteer, you can assist us in developing finding aids, processing documents, transcribing handwriting, digitizing photographs, identifying people and places, and most of all – uncovering hidden stories.
Check out our Volunteer Page to sign up and learn more. We are particularly interested in your help in developing the history of black, indigenous, and immigrant peoples; women; and other minority groups through research in our Archives.
Become a virtual volunteer! Help the Museum transcribe documents in our collection to protect and preserve information held within thousands of archival materials here in the Archives. Contact us as i[email protected] to let us know you're interested!
Conducting Research
We look forward to helping you discover your history! Whether you are planning a visit to the Archives, or requesting information from far away, we look forward to helping you.
Visiting the Archives:
Before visiting, please contact Leanne Hayden, Collections Manager, with your inquiry. This will give us a good idea of what you are looking for, and how much we can help. Leanne can be contacted via email: [email protected].
Please make an appointment to visit the Archives. Visitors are not allowed to visit the Archives without a staff member present. Without an appointment, we cannot guarantee immediate assistance, as mission-related programs take precedence.
Research in the Archives is free for 30 minutes of preliminary staff time (for non-Members). After 30 minutes, researchers may utilize the Archives for a flat-fee of $15, or, they can become a Museum Member, to properly acknowledge staff time dedicated to your project. If you are not sure how much time you'll need, please discuss this with the Collections Manager when scheduling your appointment.
Allowed:

Digital scanning: bring a zip drive or provide an email address to receive your images.
Photography: bring your own camera
Printed reproductions (excluding oversized documents)

Not allowed:

Pens or markers of any kind (always bring a pencil with you).
Researchers are not permitted to remove any original document from the Archives at any time.
Research without an appointment.
Long-Distance Research
Can't make it to Kennebunk? We're happy to help! With archival digitization equipment, we have the ability to send most materials (especially photography requests) via email. Museum staff and volunteers will research your question(s) and respond in a timely manner.
Research time: 30 minutes of exploratory research and correspondence is complimentary. If our initial research show extensive results, we will let you know our time estimate.
Suggested donation for additional research: $10.00/hour (Members receive free research as a benefit)
Fees for Use:
Archives visit (with appointment): Free, with donations gratefully accepted
Photocopies (personal use): 15 cents/page
300 DPI scans (personal use): First 5 scans are complimentary. Additional images are $1/image (please bring your own zip drive or provide an email)
Please see our Reproductions & Licensing page for detailed information.
Archives & Image Use Policy
Please read the Museum's Archives & Image Use Policy before requesting images, research, and information. These precious resources are in our care, and we take that seriously.