We are looking forward to welcoming you to the Brick Store Museum and Downtown Kennebunk. The Museum is open full-time, year round. Because our Museum features rotating exhibitions, please see our Exhibitions and Programs to check out what's happening during your visit.
SAFETY NOTE: Regardless of vaccination status, please wear a mask inside the Museum for the protection of everyone.
Before You Arrive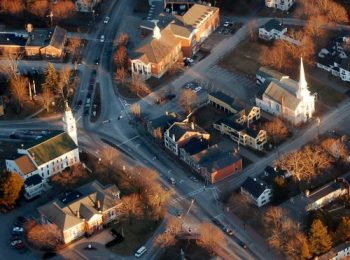 Museum Hours:
Tuesday through Friday, 10:00 AM to 5:00 PM
Saturday, 10:00AM to 4:00PM
Sunday, 12:00PM to 4:00PM (starting June 5)
Holidays:
The Museum is closed for Thanksgiving and Christmas holidays each year. See our homepage for specific closure dates and announcements.
Summer Evening Hours:
Third Friday Art Nights! are offered every third Friday of the month from June through September. The Museum is open for free from 5:00pm to 7:00pm for visitors to explore exhibitions after-hours and enjoy an art activity (for all ages!). Supported through our Partnership with the Maine Arts Commission.
Admission:
Admission fees support the Museum's ongoing operations, year-round. 
[Beat the line and purchase your tickets online here!]
Museum Members: Always free

General Admission: $5 (ages 16+)

Free under age 16
Free Days:
While admission funds are critical to our survival, the Museum recognizes the importance of giving back to the community. Thanks to the generous support of the Mrs. James Sage Coburn Fund, museum admission is FREE on Tuesdays from June to December.
Discounts
We work with community partners to offer specific discounts to visitors. You are welcome to take advantage of the following:
AAA: $1.00 off per person

North American Reciprocal Museums (NARM): Free admission (Find out how!)
Business Members: all employees of the Museum's Business Members receive free admission!
Don't see your community partner listed here? Ask them why! We love forming new partnerships to help audiences enjoy the Museum.
Free Admission for Members of the Military:
In partnership with Blue Star Museums, the Brick Store Museum proudly offers free admission for active duty, reserve and veteran members (and immediate family members) of our U.S. military, year-round. This is just a small token of our appreciation for your service. Please mention your service at the Welcome Desk to receive free admission.
---
Planning Your Visit
+ Looking for a Walking Tour or Special Behind-the-Scenes Tour? Check out Tours & Talks.
+ What events are happening during your visit? Check out our Calendar.
+ Looking for educational programs? Visit our Education Hub.
+ Visit remotely! Check out our Museum Robot Tour Guide and reserve a private tour.
+ Don't forget to stop in our locally-sourced artisan Mercantile!
Make a Day of It
Learn more about the variety of things to do, where to eat & stay, and other cultural opportunities in the area after you visit the Museum via our Around Our Village page.
Additionally, the Museum has created a Rainy Day list of museums, cultural organizations and historical societies in York County that will help make your visit historic!
Archives Research
Visit our Archives & Research page to learn more about making an appointment for research.
Parking
Free, curbside parking is available on Main Street, including several spots located directly in front of the Museum. Additional parking can be found on side streets (Dane Street and Green Street), and in marked public (free!) lots on Main Street. These are all within easy walking distance of the Museum.
Museum Closures
The Museum is closed on all national holidays; the day after Thanksgiving; and during the week between Christmas Day and New Year's Day. If in doubt, please call the Museum at (207)985-4802 to verify open hours.
Severe Weather Closures: We will be closed during severe weather events, and follow the closure decisions made by our local RSU21 School System. Weather closings will be posted on this site's homepage, as well as on the Museum's Facebook page. As a general rule, if RSU21 is closed and/or there is a Parking Ban in Kennebunk, the Museum will be closed.

Looking to stay in Kennebunk during your visit? The beautiful Port Inn Kennebunk is the Brick Store Museum's official inn! That means you get 10% off your downtown Kennebunk stay when using this link to Book Your Room!
Group & Guided Tours:
Bus tours and special group tours are always welcome. Please visit our Groups & Field Trips page to learn more.
Accessibility:
The Museum is working diligently to make these historic buildings accessible to everyone. Currently, the Museum is partially handicapped accessible. The main entrance to the Museum is equipped with a ramp, and the first floor galleries and the Bauman Gallery are fully accessible. Stairs are required for second floor access.
Library Passes
Did you know that the Museum offers a Library Pass Program? Interested libraries are invited to learn more.
To learn more about things to do in the area, visit our Around Our Village page.
To learn more about the Kennebunks in general, please visit the Kennebunk Chamber of Commerce website.