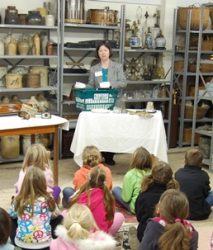 Volunteers are vital to the Brick Store Museum's year-round mission to ignite personal connections to local history, art and culture. Each year, more than 50 volunteers of all ages bring their skills, perspectives, and life experiences to enrich our programs. Through their efforts, the Museum is able to provide exceptional programs and events that reach our visitors year-round.
Responsibilities
Volunteers carry out a variety of essential jobs here at the Museum. Some volunteers donate their time weekly, others for special events. When you apply to be a volunteer, we'll sit down and talk about what works for you.
Every volunteer is responsible for the preservation of our shared history and art through their work in educational tours and exhibitions; at the welcome desk; in collections cataloging and digitization; in facilities management, and in special programming – among many others.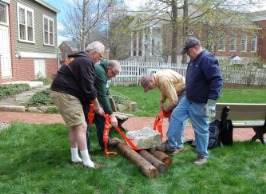 Types of Jobs
Volunteers at the Museum take on many different jobs, depending on their previous experiences, skills, passions, and available time. While the Museum benefits from your generous volunteerism, we want to make sure you are reaching your goals, too. Find a complete list of our Volunteer Job Descriptions to see what works best for you.
Apply
When you're ready to apply, please fill out our Volunteer Corps form, which you can do on our digital form below, or by downloading our Volunteer Form, and either email it to the contact below, or mail it to the Museum. If you have any questions, please reach out to Jeannine McCoy, Volunteer & Stewardship Coordinator, at [email protected].
Find our volunteer listings online by visiting VolunteerMe, to learn more and apply right online!
+
Looking for Employment or Internships?
+
Interested in Board Committee service? Contact Jeannine McCoy, at the address above.
+
Fill out your Volunteer Form right here!