The Brick Store Museum celebrates the human experience in the Kennebunks and our surrounding communities through the exploration of its art, history, and culture.
The Museum is dedicated to exhibiting educational and exhilarating stories through the scope of local people and places, and keeps a schedule of rotating exhibitions in six galleries throughout the year. 
The Kennebunk Elementary School Art Show (March 10 – April 9)
WRAPPED IN BLUE: Fashions to Promote Global Health (a partner exhibition with Partners for World Health) (April – August)
Life's Progress: Exploring Change Over Time (April – August)
Pastel Society of Maine International Show (September – December)
Online Exhibitions
Discover the history, art and culture of the Kennebunks and our surrounding communities online! 
Digital exhibitions include website versions of some of our most popular gallery exhibitions, plus new content created by staff, volunteers and student interns here at the Museum.
Mobile Exhibit Program
Made to fit anywhere (a small lobby, a busy school entry, a common area…), a Mobile Exhibit provides a three-dimensional view of our shared art, history and culture. Cases are loaned to businesses and organizations for free (though donations are always accepted!).
Read on to learn how you can help to celebrate our region's heritage and become a partner in preserving the past to inspire the future.
The Patsy Bauman Gallery
The Patsy Bauman Gallery, generously supported by the Bauman Family Foundation, was unveiled in June 2018 inside the Museum's Program Center. It allows the Museum to feature contemporary Maine artists for monthly exhibitions from May  – December.
To learn more about the gallery, upcoming exhibitions, or how to apply, please click below. 
The Victory Garden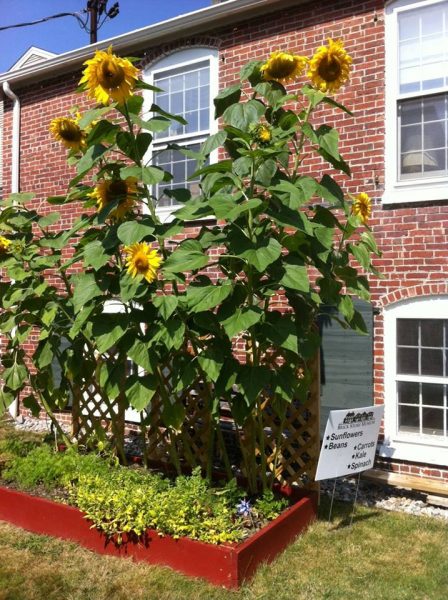 The Victory Garden was founded in 2014, in conjunction with the Museum's exhibition, "Vitamin V: How Food Fought the Second World War."
It has since grown to supply vegetables to our local food pantry every year, spring through fall. The Victory Garden highlights the importance of food security and conservation in the 1940s and today. Visitors to the Museum are invited to explore the gardens upon their visit.
Past Exhibitions
Explore past exhibitions at the Brick Store Museum.
Click here to see a menu of recent exhibitions installed.
Questions? Call the Museum at (207)985-4802.
Sponsorships
Are you interested in becoming a Presenting Sponsor of a particular exhibition? Please email the Museum's Director, Cynthia Walker, with your ideas.