In 2018, the Brick Store Museum opened the Patsy Bauman Contemporary Gallery, with generous support from the Bauman Family Foundation. It is located in the Brick Store Museum Program Center. The gallery provides space for contemporary Maine artists to share their work with the community, and is open seasonally from May through December. Each exhibit runs 5-6 weeks, so there is always something new to see!
Special Anniversary Exhibit: The Fire of 1947
The Bauman Gallery, typically home to contemporary exhibitions, now presents a special feature for Fall 2022: a look back at the Fire of 1947. 
The exhibition features photographs, oral histories and first-hand accounts, a vintage film about the fires and an incredible quilt telling the stories of those impacted by one of the worst natural disasters in Maine's history.
The show will be on view through Fall 2022.
Can't make it to the exhibit? Visit our Digital Learning Center to hear a recorded lecture on the Fire.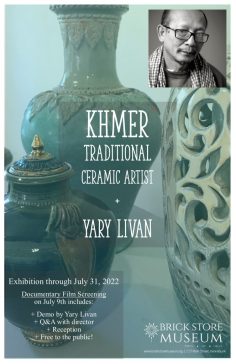 Yary Livan
The Brick Store Museum works with community members to make new ideas, traditions and knowledge available to the public. Thanks to the partnership of Khmer families in Kennebunk, the Museum welcomes Cambodian ceramic artist Yary Livan, with an exhibition of his traditional ceramics.
Livan is one of only three known Master Ceramists to have survived the 1975 Khmer Rouge Genocide, and the only one known to be living in the United States.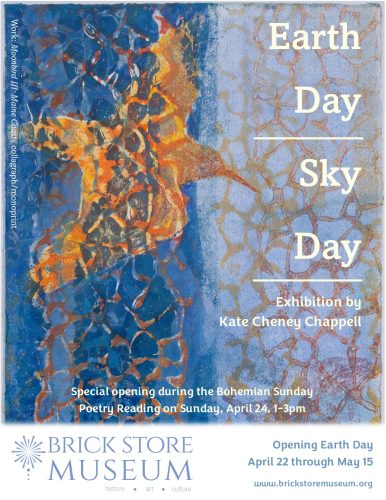 Kate Cheney Chappell
The art Kate has made since the millennium reflects the dislocation of animals and humans we are experiencing, through migration, war, and the rapid degradation of our environment.
Today, more than ever, she witnesses the tears in the fragile web of life we share with all plants and animals in the natural world. 
She hopes her work opens people to the beauty and integrity in these interdependent connections we are losing every day.
Peggy Johnson: A Jeweler's Life
Maine jewelry artist Peggy Johnson died in August of 2020 on Munjoy Hill in Portland. She had lived in that neighborhood for the last two decades but began her jewelry career in the 1970's in Philadelphia. The arc of her more than three decades-long career was spent creating both original production and one of a kind pieces. Those years saw many manufacturing innovations that she employed to make her work. The Museum exhibition will trace not only Peggy's individual creative path but also celebrate the way in which contemporary jewelers and metalsmiths continue to integrate handmade work and new technological developments within the field to survive and thrive into the 21st century.
Caleb Cole: Remains
The word remains may suggest death, destruction, or long forsaken relics, but it can also represent that which persists, conjuring images of resilience and survival.  Caleb Cole uses secondhand items such as found snapshots, vintage magazines, and thrifted clothing to create new photographs, collages, and sculptures that address the absences of history. 
This exhibition brings together over a decade of Cole's work that focuses on connection, community, and memory, spanning themes as broad as group belonging, military service, violence against transpeople, and collective cultural losses from the AIDS epidemic.  Cole's art centers that which is unknowable about the people and events of the past, not only to mourn and bear witness to those losses, but in an attempt to provide for who and what remains. 
George Longfish (Seneca/Tuscarora) has been instrumental in shaping the field of contemporary Native American art for over forty years. He was raised on the Iroquois Indian reservation in Ontario, Canada, before moving to Chicago, Illinois. He received his BA and MA at the Art Institute of Chicago. He served as a professor in the Native American Studies Department at the University of California, Davis, for 30 years.
He now lives and works in Maine. 
Longfish's art draws on a sense of honor that allows truth to be pulled from all directions and the spirit to emerge from within the work in a way that heals the very wound it addresses. The Brick Store Museum is honored to  exhibit a selection of his artwork.
2020 Exhibitions
"New Mainers, Portraits of our Immigrant Neighbors": Photographs by Jan Pieter van Voorst van Beest

The Photography of Tony King
2019 Exhibitions
John Bryan Woodworking & Sculpture

Christina Record, 3D cut paper

Ken Fellows, oil

Dianna Anderson, oil

Art Guild of the Kennebunks

DUAL SHOW: Rosalind Fedeli  & Susan Barrett Merrill, mixed media

Mark Alesse, photography
About the Patsy Bauman Gallery
The Patsy Bauman Gallery offers artists the opportunity to display their work in a professional environment. We invite Maine artists and Maine arts organizations to submit an information sheet to the Brick Store Museum for exhibit consideration. Please find a digital version on this page, or pick up a physical copy at the Museum's front desk.
+
Please read the included directions and information before calling the Museum, as they may be answered on this site.