Open Applications for 2023: Rolling through April 30, 2024
The Brick Store Museum Bauman Artist-in-Residency program began in Summer 2022. Each year, the Museum selects an artist to create works of art that reflect the diverse history and cultures of Kennebunk through varied art mediums.
No matter the medium, any Artist-in-Residence holds the position for three months and is expected to produce a Final Project (work of art, play, piece of music, etc.) to be accepted into the Museum's collection AND offer at least one public program (i.e. workshop or Artist's program based on your specialty). During the Residency, the artist will contribute to the Artist Blog on the Museum's website.
Eligibility: All artists of any medium are invited, including (but not limited to): paint, illustration, writing, sculpture, performance, music, etc.
Please submit:
1) Residency Application (PDF here)
2) Artist bio and CV
3) Project proposal (400 word maximum) with a realistic end goal that demonstrates your vision and how you will utilize the Museum's collections.
Expectations
The Brick Store Museum is focused on the history, art and cultures of Kennebunk, Maine. Artist should create their work to focus on the town, using the Museum's collections as inspiration. This can be done through all mediums of art. (Photographs, printmaking, sculpture, videos, educational works, drawings, and other new media).
Artist must maintain a clean and safe workplace.
Artist will lead a presentation of their resulting work, such as an artist talk, performance, tour, etc. (In person/virtual).
The Museum is offering a 3 month "residency" on site at the Museum (housing is not provided). Artist must be able to commute and have easy access to the Museum.
Residency will produce a "tangible" result to be used at the Museum, for instance, a new artwork; performance; play; interpretive writing; photography; product for the Museum store, etc.
Prior to acceptance to the Program, staff and potential Resident will meet to discuss specifics of the project and the Museum's expectations.
Artist will be working with Museum staff for help with artifacts and access. Museum staff will work with the artist to figure out which supplies can be provided.
Benefits
1) Artist will receive a stipend after the completion of their work.
2) Artist's work will be included in the Museum's collections once complete.
3) Artist has opportunity to sell reproductions of their work(s) in Museum Store (or via programming tickets, if applicable) for commission, as described in Residency Agreement.
++++
2023 Artist-in-Residence: Elizabeth Winter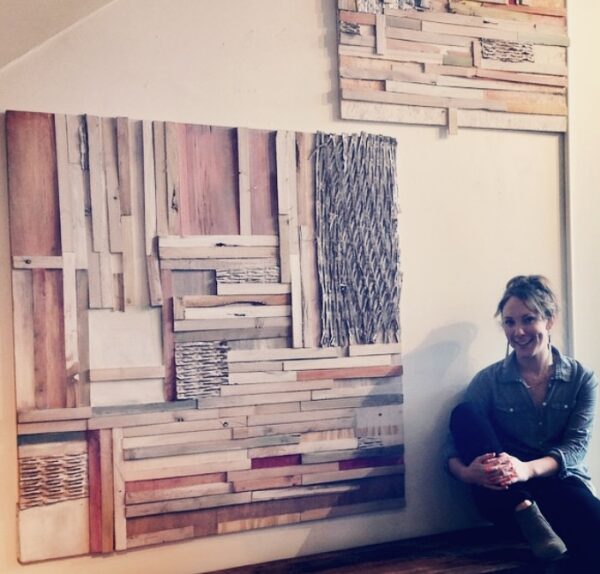 Elizabeth Winter is a painter and mixed media artist in southern Maine. Elizabeth received her BA in Studio Art from Keene State College and a MFA from Vermont College of Fine Arts. Elizabeth currently resides in Kennebunk, Maine where she is an active maker that creates in her own studio practice along side providing art education for all ages. Finding a deep joy in assisting others to find their own voice in art mediums. Elizabeth is also a jewelry designer, visual merchandiser and currently working on illustrating a children's book that her mother authored.
Elizabeth's own body of work has developed over the years. As technical confidence and her own original concepts developed her work became further layered and complex. Her approach to creating highlights the process of research and making is just as important and layered as the finished work. The material usage has developed by building her own canvases from vintage clothing, found/discarded materials and wood collage. The materials used to create her work speak just as loud as the finished piece. Elizabeth's work for the past 20 years focuses on place and space.
In accepting this summers Artists in Residence position with Brick Store Museum Elizabeth will be working on The Dwellings Project. The dwellings project will explore the visual impact of everyday place and space within the borders of the Kennebunk community. Focusing primarily on the architectural history of insignificant significant dwellings. There are so many questions that generate from just one shed, farm house, barn or new construction build. I believe that we observe a greater understanding of who we are, where we've been and where we are going as a community based on the dwellings that stand. These buildings have created the visual fabric of our town and contribute to the energy of our everyday life. Oftentimes being overlooked.
Further she will explore the visual evolution and impact that has been experienced with the sell off of large land tracts and development of new construction. The project timeline will focus primarily with the founding of the town in 1820 to present day but will draw inspiration in less detail from the original establishment date of 1621 to 1820. What will the future footprint of Kennebunk look like? What have we lost and what have we gained over the years through our places and spaces? What stories do the historic dwellings that still stand today share about the past and what can they teach us about our future? These questions and many others will be asked.
Installment of finished work will include a gallery showing inspired by the architectural history of Kennebunk. All work will be constructed from materials past and present that tell the story of that space. Work will depict abstract blue prints of dwellings and the land they inhabit. Work will be presented in 2D and 3D formats. Canvases will be built from found objects and materials that are site specific. In addition Elizabeth will teach a class on mixed media assemblage art and sharing her studio process.
2022 Artist-in-Residence: Beth Crowe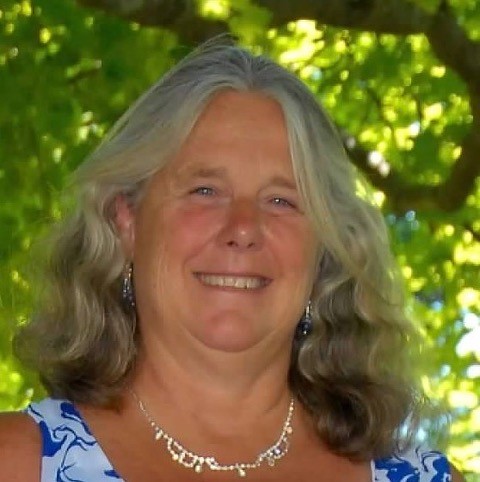 Beth lives in Kennebunk with her family. She is an oral storyteller who likes to take bits of history and a vivid imagination and create stories that resonate with audiences of all ages.  During her Residency series, she will present three glimpses into Kennebunk history. The first story, "The Great Cannonball Caper," takes place in the summer of 1950 and follows the adventures of two best friends growing up in Kennebunk.
After the story, the audience will be encouraged to work with Beth to learn the simple art of needle felting and add their work to the finished pieces she will be creating to retell the story visually.  Don't think you can? Nonsense!  Beth says , " If you can color in a coloring book, you can needle felt!  If you can draw a tree, a house, or a bike, you can design."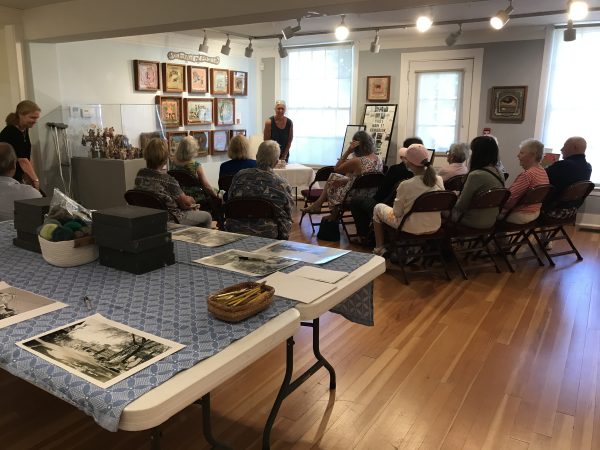 This program is based on the support of the Bauman Artist-in-Residence Program Fund, as established in 2021. To support this Fund into the future, please contact Cynthia Walker at [email protected] or (207)985-4802.