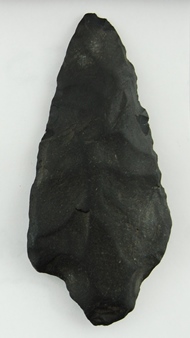 Maine has a rich prehistoric and historic heritage spanning thousands of years. Indigenous peoples have inhabited the land we now call Maine for at least 13,000 years. The People of the Dawnland (or Wabanaki), including the Eastern Abenaki (specifically the Almouchiquois), Mi'kmaq, Maliseet, Penobscot and Passamaquoddy nations lived and traded here.
The Brick Store Museum's collection contains artifacts that represent this Indigenous history. Unfortunately, for the majority of these artifacts, the sites from which they were recovered is unknown, and this limits what we can learn from them. When artifacts are recovered without proper archaeological investigation, significant information is lost.
Archaeological research in Southern Maine is developing thanks to various institutions. Identifying sites and growing public knowledge of  archaeological resources are important to our cultural heritage.
Many archaeology sites in Maine (and elsewhere) are threatened with destruction by a variety of factors, including urban development, river erosion, and sea level rise. To combat the loss of cultural heritage in our area, the Brick Store Museum has joined CPAA to support, advance and encourage archaeological research in the area.
Current Work
Our current initiative is a collaboration that began in 2017 when the Brick Store Museum partnered with the Kennebunkport Conservation Trust (KCT), Tim Spahr (Principle Investigator/Archaeologist) and Gemma Hudgell (consulting Archaeologist) to form the Cape Porpoise Archaeological Alliance (CPAA). The CPAA's research has focused on the islands and intertidal zone off of Cape Porpoise Harbor that has already been affected by sea level rise. Learn more about this work via our 16th Century Saturday Portal.
This work is part of the Museum's larger mission to promote the preservation of Kennebunk's cultural resources through research and identification of archaeological sites, burial sites, historic buildings and structures. The Museum continues to be a repository for artifacts recovered from archaeological investigations as well as providing curation and interpretation of archaeological collections through exhibits and educational programs.
In the future, the Museum seeks to gain more knowledge that spans from the earliest known occupation to the 20th century, all of which hold enormous historical significance. Archaeology can reveal so much of our shared culture by telling the story of Indigenous peoples, minority cultures and ordinary lives that are often left out of the historical record. Only a society that examines all of its past can truly appreciate the powerful blend of traditions and lifeways that it carries into the present and future.
+
For more information on archeology in Southern Maine, visit the Southern Maine Archaeology Resource.
+
If you have discovered a prehistoric or historic object or feature (cellar hole, foundation, etc.), please contact the Brick Store Museum for more information, at (207) 985-4802.
+
If you would like to sign up for our Volunteer List to be notified of project opportunities (when available), please email [email protected] with the subject line "Archaeology Volunteer" and list your name, age, and contact information.
+
Are you looking to support this work? Archaeology and preservation requires significant funding due to the resources involved. Your help is always needed. If you would like to donate toward the Archaeology program, please contact Cynthia Walker at [email protected] or (207)985-4802, or click here to process a donation online.