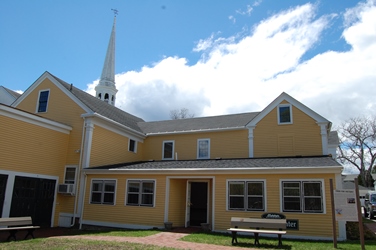 Imagine your company party, business training, birthday party, or personal celebration at the Brick Store Museum in Kennebunk, Maine.
There are two unique settings on the Museum's downtown campus that may be rented for private, corporate and nonprofit functions. Read on to learn more about these unique gathering spaces.
Program Center
The Museum's Program Center at 4 Dane Street, Kennebunk, is located just behind the Museum. The structure began its life as a home, built in 1850. As the Museum grew, founder Edith Barry purchased the building and turned it into the New Art Center Workshop. Later, it became our current Program Center that features artifact storage upstairs; and a small auditorium, prep kitchen, and gallery in the lower level.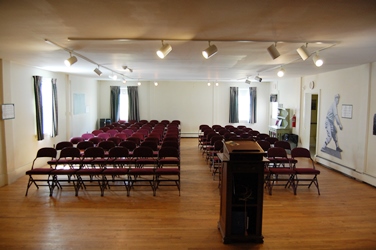 The Program Center is used by the Museum for its educational programming and special events. This space is also made available to the community, as a gathering place for workshops, meetings, rehearsals, personal celebrations, and corporate functions.
The Museum offers its Program Center for business-related events and small personal celebrations (up to 40 people), in accordance with Museum guidelines and subject to availability. With a flexible auditorium layout – which can offer comfortable theater-style seating for up to 65 people or tables for up to 40, this space can be ideal for off-site business retreats, meetings, small-format presentations, training sessions, and small personal celebrations (like birthdays or retirement parties).
What's Included:
Wi-Fi
Podium
Small stage
A/V screen, projector (if requested/available)
Heat/air-conditioning
Two restrooms
Small prep kitchen
Use of the Bauman Family Contemporary Gallery and outdoor courtyard spaces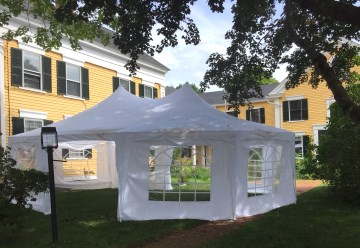 To rent this space, please contact Alex Fletcher, Museum Services, at [email protected] or (207)985-4802 prior to filling out your application.
Brick Store Museum Galleries
Have you ever wondered what it would be like to celebrate inside the Museum? Now's your chance! Contact us to learn more about crafting a unique event for your friends, family, colleagues, and/or community members.
FAQs
Do I get to access the Bauman Family Gallery?
Yes! Your rental of the Program Center includes access to the Bauman Family Gallery, a contemporary art exhibition space. What a treat for your attendees! Learn what will be on view in this gallery by visiting our Exhibitions page.
Can my organization/company ask for complimentary use of the Program Center?
The Museum advocates for our fellow nonprofit organizations to succeed in their missions in our community. However, as a nonprofit organization ourselves, it is difficult for the Museum to fully fund the complimentary use of our facilities. We offer very low cost options for nonprofit organizations and look forward to working with you to make sure it works for both of our budgets!
Do Museum Members receive Program Center benefits?
Yes! Members renting the Program Center receive 10% of facility rentals. Business Partners of the Museum receive a complimentary use of the Program Center, with 10% off every additional rental; and Mercantile Level Business Partners receive one complimentary use of the Museum galleries. Join or renew as a Member here.