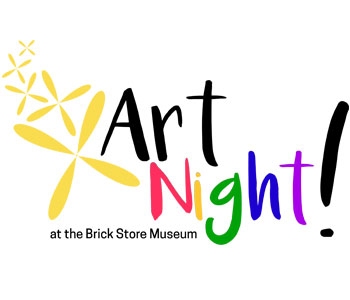 The Brick Store Museum was founded by American artist Edith Cleaves Barry in 1936. Part of its nonprofit mission is to celebrate local arts and artists, in addition to local history and culture.
Art Nights! at the Museum offer free admission during select Fridays (June through September) from 5pm – 7pm, when the Museum stays open late and offers visitors free art activities and self-guided tours of the Museum's exhibitions.
2022 Art Nights! are scheduled on the following dates:
August 12
September 9
Art Nights! are made possible by the Museum's Business Members (join here):
Kennebunk Savings, Hussey Seating Company, Home & Away Gallery, Huston & Company, Weirs Buick GMC, Well-Housed, and Old House Parts Co.
With special thanks to Maine Arts Commission for its annual partnership!
+
Explore more:
In 2020, the Museum took our Art Nights! digital, with help from the Maine Arts Commission. Each Friday this summer, we're premiering an interview with a local artist about their work and experiences. As they premiere via our Facebook and Youtube Channels, they will be listed in the gallery below:
Bruce McMillan - Watercolors
Kathy Polletto - Basketry
Julia Einstein - Painting
Lynne Blanchard Carr - Painting
Paula Gallucci - Costuming
Christine Anuszewski - Photography