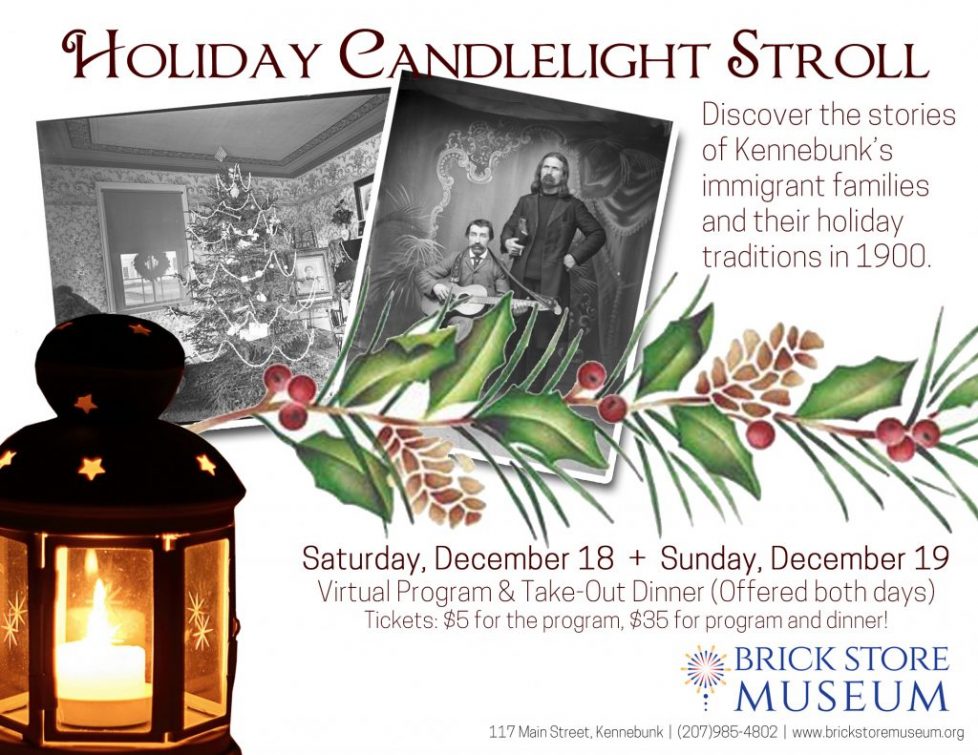 Explore the stories and traditions of Kennebunk's immigrant families in the 1930s. Visitors will "virtually visit" six families (all new since last year!), including the Tolchinskys of Russia, the Andersons of Sweden, the Drescigs of Austro-Hungary, the Drakoulakos of Greece,  the Brenners of Poland, and the D'Ascanios of Italy, all of whom immigrated to Kennebunk at the turn of the 20th Century to work in the labor and mill industries.
Representatives (reenactors) from each family tell visitors about their personal stories and their holiday traditions.
The very popular add-on dinner option continues with a take-out meal catered and packaged by For the Love of Food & Drink (Wells).  Available for pre-order and pick-up, holiday dinner choices complimenting the program are either:
a Greek-themed dinner with a Greek Salad, Fresh Rolls & Butter, Orange Cranberry Pork Loin, Sour Cream Mashed Potatoes, Roasted Brussel Sprouts and Baklava, OR
a Vegetarian, Italian-themed dinner with a Garden Green Salad, Fresh Rolls & Butter, Artichoke & Spinach Ravioli in a Fresh Basil Marinara on a Bed of Vegetables & Wilted Spinach, and Cannoli.
CLICK HERE to order your tickets (either virtual-tour only OR tour and Dinner Package)!