July 14 – September 3
About the Exhibition: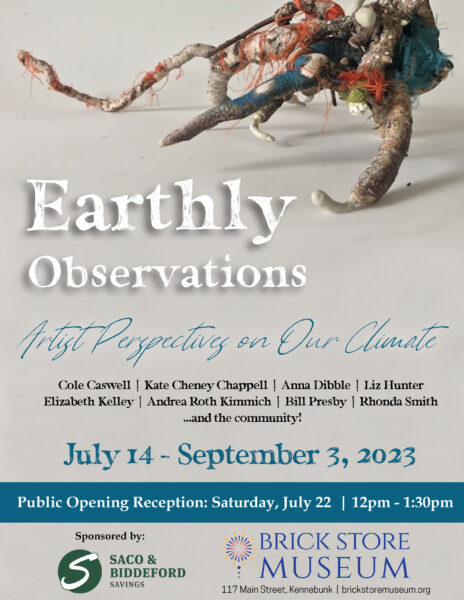 The Earth records its own history in a variety of ways. Scientists, historians, and artists translate and distill this unique record-keeping so that we can all understand our planet's experiences, in order to improve its future.
Upon inspection, the Earth's record shows that its climate is changing faster than its natural progression due to human overuse of resources.
This show displays 2D and 3D artworks illustrating Maine artists' perspectives of our changing climate. Maine citizens and those living in other coastal areas have a front row seat to see those changes during their lifetimes.
+
This exhibition in our Patsy Bauman Contemporary Gallery is sponsored by Saco & Biddeford Savings.
+
ARTISTS
Cole Caswell, Peaks Island
Kate Cheney Chappell, Kennebunk
Anna Dibble, Freeport
Liz Hunter, Kennebunk
Elizabeth Kelley, Cape Porpoise
Andrea Roth Kimmich, Kennebunk
Bill Presby, Portland
Rhonda Smith, Biddeford Pool
Clothesline artists, Kennebunk