Humanity has witnessed the best and the worst of times. Every moment of our lives becomes history. Some moments, hours, and days are more momentous than others. If we stop and look around, sometimes we even realize that we're living through major historical events.
It is then that we start recording.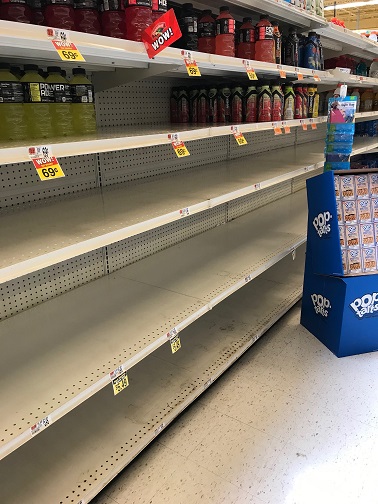 Since December 2019, the news had been reporting on a new disease quickly spreading in China; and authorities there were unable to manage it. On March 10, 2020, the first case of COVID-19 appeared in the United States. 
101 years after the worst flu pandemic (often called the "Spanish flu") circled the globe, another influenza-type virus began infecting citizens around the world.
---
We are living through and experiencing an historic event that researchers will be studying for years into the future.
For this reason, the Brick Store Museum began asking community members to share their thoughts about COVID-19 in April 2020.
Now, almost a year later, let's explore these reactions, and compare them to how we feel and understand today.
The experiences and opinions expressed below reflect the personal reactions of our community. They do not necessarily reflect those of the Museum.
At the end of this Community Diary, you will find a link to enter your own experiences, if you have not already.

When did you first hear about the novel coronavirus (COVID-19)? Were you concerned at the time? (scroll to right)
"Mid February, No, I didn't pay an attention to it."
"Initially, I wasn't concerned at all. It seemed really far away in China."
"January 2020, yes, immediately concerned."
At the end of January, 2020. My daughter's school in China said they were taking precautions. Next thing I knew they were sending the kids home with no warning. They acted with incredible speed. My daughter was on Chinese New Year break and she wasn't even allowed to go back to the school to pick up her things. Good thing she had her passport and her books because she had to fly home immediately out of the Shanghai Airport. I was very afraid. I thought it might be much worse.
"I heard about it when I was at home for the holidays, mid-December 2019. I was not that concerned (sad to say) that I sort of thought it was another one of those news stories you hear about from other countries, think to yourself "that's too bad for them, hope they get through it" and move on with your daily life. I assumed that it wouldn't get to us, because before, they usually haven't."
"Mid-February, no because it was so far away in China."
When did you start to feel worried? Did you feel confident we could contain the spread? (Click arrow to scroll)
"When schools closed around me, National Emergency declared and I went for groceries and found the shelves empty. I was out for 3 hours going to 3 different stores spending $300.00 just to get what I thought would last 4 to 6 weeks."
"I think that I started to feel alarmed when people in the United States started testing positive because it seemed more real to me. Also, with the way the current administration runs things I became concerned that we aren't going to be able to contain this."
"Daily news throughout January and into February impacted my business immediately, with cancelled purchase orders, cancelled trade shows and related events. Next, we were all told to Shelter In Place here in California. The news of the virus spreading in the USA and throughout the world became alarming. I still am not sure how /if we can contain it."
"I am a public health professional with lots of experience in infectious disease. This is concerning."
"No I do not feel we will be able to contain the spread even today April 1, because we have had such bad testing, different states performing tests at different rates. Without proper testing, we cannot track the virus. The lack of testing is a huge problem."
"I got nervous when I was in San Diego for a work trip the first week of February, and they reported that some people from the infected cruise ships were in the hospital there. It was the first time that I was physically in the same location as what was being reported on the news, and it definitely made me more conscious of my actions, my health, and what might be happening in our country. At the time, I was sort of split on what I was thinking. Honestly, for the most part I kept thinking things were fine, because we've never not been able to tackle a problem before. I figured it would be taken care of. The government was tracking the people and their contacts; it wasn't "real" yet for those of us with no contact.
I really started to get more alarmed when I heard the first case of "community spread", which meant that the new patients had no traceable contact with the ones we knew were infected. That meant it was really out there, lurking. As a scientist who deals with data every day, I'm used to seeing exponential curves – and once that curve started ticking upwards, I wasn't sure there was any possible strategy that could reverse it."
"Early March. I did not feel like the US would be able to contain the virus because of the leadership our country has right now."
Write a description of your thoughts as people began to test positive in Maine; or in regions near where your family members live. (Click arrow to scroll)
"Going from zero on Friday the 13th to 32 on Tuesday was terrifying, seeing some towns and cities not doing anything was frustrating. My City of Biddeford seemed more worried about trash pick up and bills, and keeping people out of city hall. There were no plans for a curfew on St. Patrick's Day. All bars, restaurants were open. I got an e-mail from the laundromat next door that might be closing. This was scary. When I posted it on Facebook I was told to dig deeper in my closet. I HAVE to do clothes once a week to have anything to wear. I mostly wear the jeans and good shirt 100% all the time. I don't even have a closet! I live SSDI. I'm disabled. This lack of income worried my most during all of this."
"It became even scarier. I have older family members, including my 90 year old grandmother, who lives with me, who would be very susceptible to the virus if she catches it. It was also hard when my sister's area started getting the virus because I would really like to see her, but for the safety of my grandmother, we're not visiting each other."
"I immediately felt compelled to stay inside, except to walk my dog for exercise and fresh air. I pray continually for protection for my loved ones, my family, friends, my church family, my neighbors and the entire world. I am checking in on everyone constantly and trying to share uplifting photos and words of encouragement."
"I am maintaining a daily diary on my own lap top."
"I want to write here that I saw at first a horrible silent lack of civility among Mainers in the very beginning as if a frown to a stranger would ward off the disease. I saw people frowning at each other in the grocery store, driving, and just in general. After Cuomo called for an increase in what he called "humanity" people have seemed to make a real effort to be cordial to one another. I feel this is extremely important. We need to know that people are good around us not that we are surrounded by hateful fearful people –even if we are all a little afraid. A smile goes a very long way during times like this. I am also very worried bout the lack of leadership at the national level. Thank goodness our Governor Mills has been on top of the situation. People need concrete advice and some idea of what the overall plans are for all of us as a nation."
"I live in the LA area, and once there were reported cases here, we really became more conscious of our contact with people. One thing I've noticed about our neighborhood is that, despite social distancing guidelines, we've said hello to neighbors more often, waved hello or smiled at strangers passing on the road, and have generally had a more pleasant experience with other people than normal. It's almost like a collective decision to make our days brighter however we can. Pretty cool. LA can seem like a crowded, unfriendly place a lot, but it's been really interesting to see us all when we're pared down to our humanity. We even had a apartment complex "dance party" on our respective balconies. In the three years I've lived in this complex, I've never seen more than a couple of neighbors as we pass each other in the parking garage. It was neat. I do get nervous now that it's so widespread that it's in Maine, near where my family and parents live. While I can be accountable for my own health here, I have a distinct feeling of dread that they are all so far away and there's nothing I can do to see them right now, or make sure that they're all right. That part makes me very sad, and every day I am nervous that I will get a bad news phone call."
"It made me never want to leave the house. (Except for my daily walks of course!)"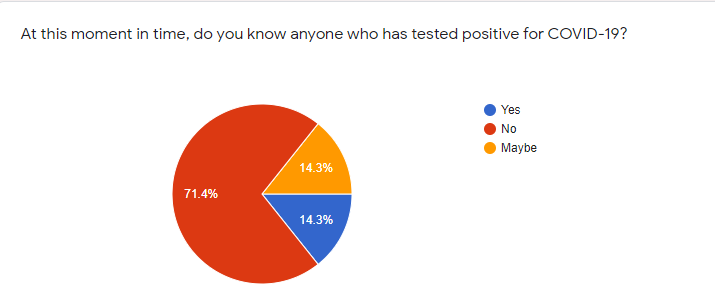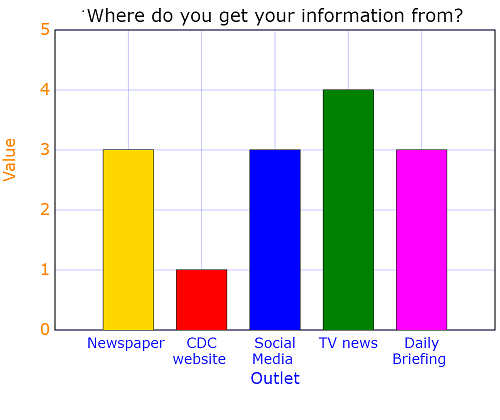 Is there a person, in a leadership role, that you look to for information and decisions at a time like this?
"No, no one."
"Not really. I don't particularly trust the President to have accurate information, so usually I just look for information."
"My God, my pastor, Gavin Newsom."
"Lots of online and media sources."
"Yes, I would be looking to the president but I cannot believe a single thing he says at this point."
"I listen to the people that have been through things like this before, and know the science. While others probably have the best intentions, no one else really knows what is happening; it's unmapped terrain for all of us."
"Dr. Shah."
"I wonder how long spirits will stay bright,
should this drag on for months, and finances become critically strained."
What was the first thing you noticed in our community when concerns over the virus began? What changes have you observed? How do you feel about these changes?
"Run on toilet paper, then food. I've been staying home watching my grandchildren since the schools closed. I don't feel safe going out."
"The first thing I noticed was the food and item hoarding that started happening. I saw people start to stand further away from each other. I think the standing further away from each other makes sense, but the food hoarding does not."
"People have become very kind and supportive of one another. The air has become much cleaner, due to far less cars on the road. Also the sounds of nature can be heard more clearly without noise pollution from cars, planes and trains. People are respectful about social distancing while remaining friendly and even chatty. The grocery stores are mobbed, though the shelves are sometimes bare. People seem to be anxious, yet taking time to relax and do more things outside, online, and personally, like art and other creative pursuits. I wonder how long spirits will stay bright, should this drag on for months, and finances become critically strained."
"Those of us volunteering in social welfare organizations are spending much time thinking how to maintain/expand these services, especially to isolated seniors and others in need."
"People seemed afraid of each other in a very mean spirited way. Thank goodness people have changed their attitudes to more of a 'we're all in this together.'"
"I've noticed good and bad. Bad is obviously those people panic buying and stockpiling materials that other people need too; caring is sharing, and many aren't doing much good for their neighbors right now by hoarding goods. It won't do you any good to have a million disinfecting wipes if your neighbor doesn't, gets the virus because they couldn't clean their door handle, and then coughs on the sidewalk you share and you get the virus too. We've got to be aware of that. But there have been good deeds, too, which again really enforce the notion that we're all in this together."
"People being especially nasty to those with out of state plates, but that's Kennebunk for you. I think people need to live their own lives and stop policing others. While there are so many memes and social media hashtags for #kindess #justbekind, people are downright nasty, and with no lives to lead, that nastiness comes out ten fold."
"There's nothing much to do but... be at home with yourself, literally and figuratively."
How has your own life been affected?
"Libraries closed, I do Historical Research, so all my sources are closed. Home is tense, my daughter works full time at Walmart, we live together, so we are pooling together. Family is important now."
"I work 2 jobs. One of my jobs, the pharmacy job, has continued to run the same. We will stay open pretty much no matter what as people need access to medications. My other job, working for a school district, has changed significantly. I am working from home and completing professional development opportunities. It is hard to not see students every day, and I think of them all the time, wondering if they are practicing reading or going outside. There have also been shifts at home. We now spread out in the house a little bit more, and everyone tries to stay away from my Grandmother, who is 90 and we are trying to keep healthy. Everyone at home is washing their hands."
"My business has come to a halt, though customers have been in touch, as they cancel their orders, but they are kind. I have been building sites on Faire for wholesale and Etsy for retail sales, hoping to be able to garner some income. I have been applying for an SBA emergency loan. I have been part of a group chat with church members as we try to stay connected, and supportive of one another. My husband and I started doing yoga with YouTube, which feels good. I have been photographing the beautiful spring flowers everywhere as we walk our dog up and down the Oakland Hills, and sharing them on Instagram and Facebook, to brighten spirits. Most evenings we have been playing cards, having fires in the fireplace, watching new shows and movies, playing guitar and singing, and praying together, too. I have been taking the time to talk with friends and family on the phone, a luxury I do not usually have in my busy "regular" life."
"Staying at home is a bit limiting but with only my wife and I it has been more of an inconvenience than a hardship."
"It has been much harder to get work done as I thrive in a work environment with others. I am someone who needs the energy of others around me to inspire me. Working at home at first was kind of fun, but now I am ready to go back!"
"We've been working from home for three weeks, and only go outside to walk the dogs. It's pretty strange; while you know you're working for the public good, I think everyone right now probably feels some sense of being trapped. It's a strange feeling. There's nothing much to do but… be at home with yourself, literally and figuratively."
"Working from home, many colleagues furloughed, not seeing family and friends. Learning how to Zoom."
What's Changed?
"I am definitely focused on how to survive financially going forward. We may try to work for Amazon until we can resume our business. I am researching sources of financial assistance. I am using hand sanitizer and cleaning everything. We are spending NO money except on necessities. I am actively working on not becoming fearful and depressed, and helping my husband and family to do the same. I stopped drinking ANY wine. I am praying, hoping and waiting."

"With all communications outside the home limited to electronic means misunderstandings are created more easily and less easily solved."

"I am definitely more aware of my actions and interactions now, and also those of others. Everything takes a bit of planning and design now, more effort, even if it's just going to the market or getting your pet to the vet."

"I barely leave the house, only to grocery shop or pick up prescriptions (thank goodness for the drive through window and curbside pickup). I spend more time doing sedentary tasks, despite taking a daily walk. When your commute is only steps, it changes everything."
"not knowing how long this will last, not getting the right information, or any information."
What has _______ the most about COVID-19?
"How Unready we were. We're sitting ducks."

"How quickly Maine responded and how strongly. I am glad that we have responded this way, but I'm curious to see how things play out over the next couple of weeks as we learn more about this virus and how it spreads."

"People are beginning to look at life in a new way, focusing on friends, family, creativity, helping each other. We know we are all in this together, locally, as a nation, and worldwide, which creates a human connection and compassion for all."

"Nothing really so far; perhaps too early to tell."

"The absolute need for a good president is not a joke. It is not okay to have someone with no experience leading millions of people."

"The most surprising thing to me has been that the USA couldn't stop it from affecting all of us, every corner of the country, when there was plenty of warning. I just can't believe this is what happened to us."

"How long the quarantine is lasting."
What Do You Say to Those Who are Struggling?
I really admire the doctors, nurses, law enforcement and other essential workers for their hard work and bravery during this uncertain time.
"I've been thinking of one of my favorite literary exchanges during this time, and I hope it helps others too. From J.R.R. Tolkien's The Lord of the Rings: 'I wish it need not have happened in my time,' said Frodo. 'So do I,' said Gandalf, 'and so do all who live to see such times. But that is not for them to decide. All we have to decide is what to do with the time that is given us.'"
"Check in with your loved ones, use the technology that we have available to skype/facetime with people. Take this time to learn something new, to do something that you've always meant to do but never had the time for. Keep yourself busy, and be conscious of your media consumption (including social media). Like Mr. Rodgers says, look for the helpers."
"Remember that no matter what the circumstances, God is there for you. God will protect you. He is able to provide and sustain you. In times of peril, when we have nowhere to turn, turn to God. You will find the peace that passes all understanding."
"This too shall pass. and "If you don't have anything good to say, say nothing at all." BUY LOCAL!!! If we want to see thriving communities we need to stop ordering things online and order from our local stores! We need to shop local with every dime we can in order to overcome this pandemic financially speaking."
"We're all in this together, let's succeed together as best we can. It's not every man for himself, it's every man for every man. It's got to be, or at some point every man will be consumed by that exponential curve."
"Stay the course. This too will pass. Do what you can to protect yourself and don't worry about others – you can't control them but you can control your own actions and emotions."
Add your voice to the story! One year later, we have a new survey: "COVID-19: One Year Later." Share your experiences in this past year. Help us learn for the future! Click the button below to start.