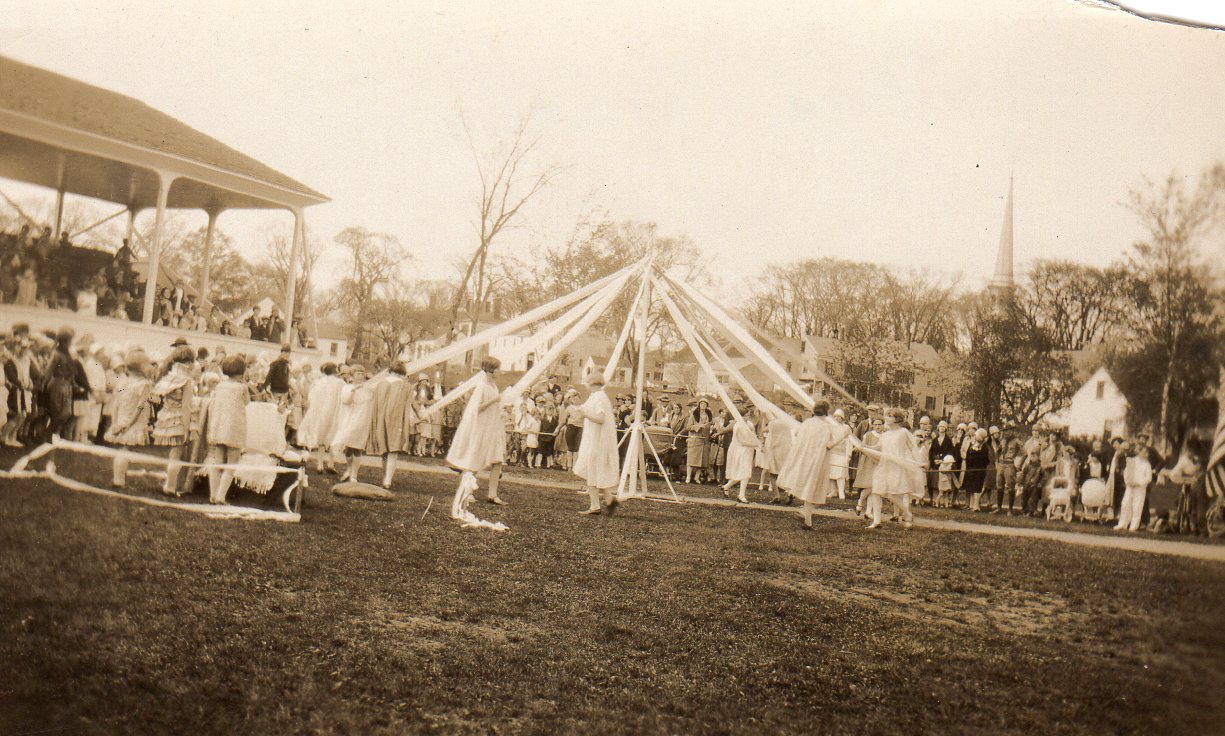 May Day in Kennebunk, c. 1928. The community celebrates the May Pole tradition on Park Street Playground.
Origins of May Day
The origins of May Day date back thousands of years.   The Druids of the British Isles celebrated May 1 as the festival of Beltane, representing the height of spring and the flowering of new life.  When the Romans occupied the British Isles, the celebration honoring Flora (the goddess of flowers) was brought to the British Isles as well.  Many customs of May Day were derived from  various European celebrations, including Maypoles, electing a May Queen, and going "a-Maying" (gathering flowers). Today, traditional customs include making a cake, dancing, and singing to celebrate springtime.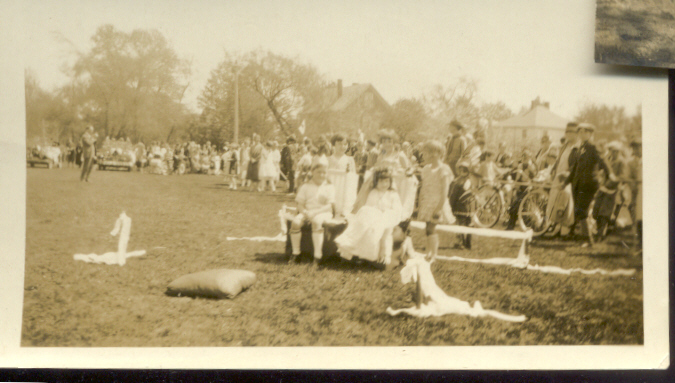 Over time, May Day became a children's celebration of the first day of spring.  In addition to other traditions, children delivered May baskets.  People would leave a paper basket or cone with spring flowers and sweets on each other's doorsteps, usually anonymously. This tradition was popular through the 19th and 20th centuries. Children would gather flowers (or candies), place them in baskets, and secretly deliver them to family, friends and neighbors. 
Did you take part in this tradition? Or do you know someone who did? Ask your family members about their memories of this holiday.
The Museum has several vintage May Day baskets, made of crepe paper, in its collection. Most of these baskets were made by Mrs. Sarah Owen, a Kennebunk resident who was well known as "The May Basket Lady" in the mid-20th century. She learned the tradition of May baskets as a child, delivering them with her father.  When she moved to her home on Park Street in Kennebunk in 1942, Mrs. Owen helped to keep the May Day tradition alive by selling handmade May baskets to children for nickels and dimes.  When she died in 1987, a beautiful Park Street tradition left with her.
May Day Activities at Home:
Some simple things you can do today:
Take a walk with your family and spot flowers growing. How many can you find? Take a photo of your favorite and send it to friends and family to brighten their day with the message, "Happy May Day!" (adults, you can also post this to your social media feeds!)
Sing a song (your favorite!) to welcome spring.
If you have the materials at home, bake a cake (or any treat!) with your family and celebrate the coming of spring with a delicious dessert.
Make a May Basket, directions at right!
Make a May Basket in two ways!