Our homes are essentially museums holding treasures and ephemera narrating the story of our lives and the lives of our ancestors. As the COVID-19 pandemic has kept many of us in our homes each day, let's take a closer look at what home means to you and your history!
Pick an object in your home that is meaningful to you, and share it with our community, by sending the Museum a photo or video of your selected object, plus a short history of it. Your image and information will go on display with other community members' entries below. Please explore!
You can even fill out a Museum of Home information sheet – using qualifiers the Museum typically uses to understand artifacts.
Information Sheet (PDF)
Information Sheet (For Kids!) (PDF)
Send your photo and information to: [email protected], or share on Facebook or Instagram
---
MUSEUM of HOME submissions: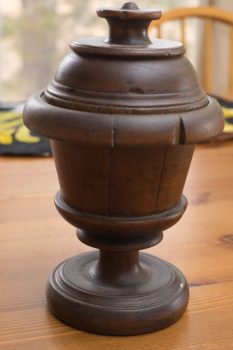 Visit: Chris' Story
Shared by Chris Farr:
This wooden sugar bowl has been in my family a very long time. When my Grandfather Farr was a young boy of 5 or 6, he traveled with his family by covered wagon from Portage La Prairie, Manitoba to British Columbia. Every night when they stopped to camp for the evening, the wagons were brought into a circle. The kids were allowed to play in the circle – and there were adult lookouts scouting for animals and other dangers in the night. They had all their possessions with them in the wagon – including this sugar bowl which was already old at the time. His mother would bring it out when they set up camp and then wrap it in a cloth for transport. You can see damage around the rim — that occured on their travels and he could remember how upset his mother was.
My father remembered that it was still in use on the table in Vancouver, BC when he was young.
Grandpa Farr was born in 1888, which means that this sugar bowl is at least 132 years old.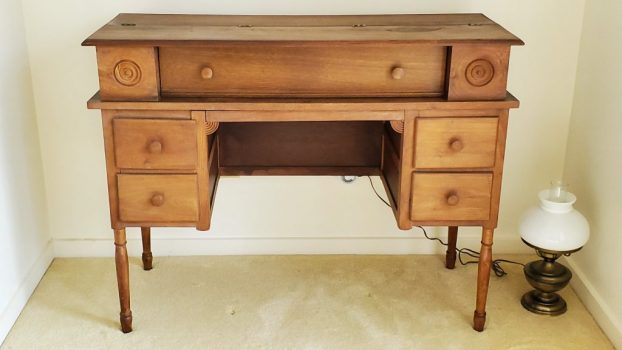 Visit: Nancy's Story
Shared by Nancy Hemstreet Eaton:
This desk used to be a living room pump organ, likely from the mid-1800s! Nancy notes that the piece holds great sentimental meaning because she adored her grandmother, and this organ (now desk) originated with her grandmother's grandmother. When Nancy was growing up, the piece sat on the enclosed porch of the farmhouse owned by her grandmother, Esther Carroll McMillan (and family) born in 1890, on Gurneyville Road outside of Wilmington, Ohio. 
Nancy, who is a (mostly!) retired professional musician with a Masters in Organ from Yale remembers the family farm, precious memories, and celebrates music with this piece.