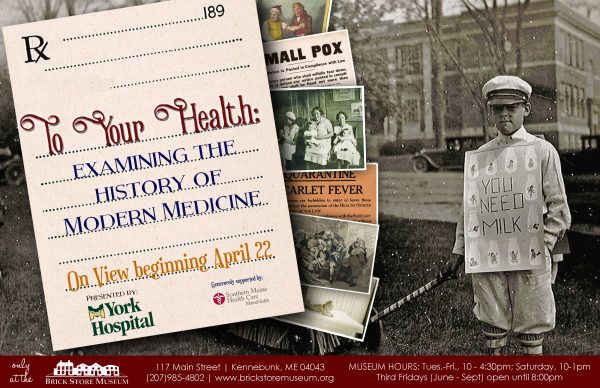 Throughout history, our bodies have experienced disease, medicine, and healthcare in different ways. The diseases that were once fearfully rampant no longer take our lives; but others have sprung up in their place, often with more complicated cures.
Throughout Maine and New England, it was not very long ago when many of these diseases were a common threat to our survival. Today, many of these life-threatening illnesses that shortened our lifespans have vaccines to prevent the disease altogether, while others still exist and solutions are still sought. 
Click on the multi-colored tabs above to learn more about some of the diseases and their status today.
19TH CENTURY MEDICINE
THE DOCTORS
As Kennebunkers experienced outbreaks, infection, and probably death – like the rest of the country – families spearheaded the care of their own children, siblings, parents, and neighbors with the help of local doctors. As the diseases and treatments of the 19th Century advanced, doctors came to Kennebunk to begin a lifetime of healing patients at home. By 1809, there existed twenty towns in York County, with the population of the town of Wells (of which Kennebunk was a district before 1820) including 2,181 males, 2,301 females, and 7 African Americans, noted separately.
In the early 1800s, most doctors traveled by foot or on horseback to their patients' homes. Dr. Jacob Fisher of Summer Street and Dr. Samuel Emerson of Pleasant Street were no different. In addition to visiting patients, Dr. Fisher also sold medicines from his home. Every doctor was limited to whatever tools and drugs he could carry in a hand-held case or saddlebag.
DOMESTIC MEDICINE IN THE EARLY 19th CENTURY
The 19th Century was a time when two-thirds of Americans lived on farms or in rural landscapes. Indoor plumbing was rare, and homes were heated solely by wood burning stoves and fireplaces. Men's and women's work was physically challenging – often leading to accidents. Unlike today, serious diseases like cholera, yellow fever, typhoid fever, diphtheria, malaria and tuberculosis were common. Up until the late 19th Century, the majority of healthcare in the United States took place at home. Family members – primarily women – performed routine care of the sick. Doctors, when available, did not usually attend except in very serious cases; and then they would visit the patient's home.
"Country doctors" had almost no vaccines, no laboratory tests, and not many effective medicines. Responsible for treating a wide variety of medical problems, from broken bones to wounds to chronic and acute illnesses, doctors were generalists that had to build a great depth of knowledge on healthcare. 19th Century doctors charged their patients per procedure, like today –  more for emergency evening visits, less for children's treatments. Payment would come in many forms: money, produce, goods, or services in-kind.
FROM THE GARDEN: 19TH CENTURY REMEDIES
Old remedies, passed down through families and across the yard by neighbors, played a big part in medicine and healing prior to the 20th Century. Whether family or physician, everyone used the same herbs to reduce a patient's symptoms. Families would grow these plants and herbs in their gardens, and dry them to keep over the winter. Most families depended on these herbs from their garden or from a neighbor or pharmacist; because in the 19th Century, if you thought you could fix an ailment on your own, you usually did not call the doctor.
This exhibit was displayed at the Museum April – October 2016. This online exhibit features the original exhibition script (text panels) and images and media from the physical exhibition. 
Curators: Leanne Hayden & Cynthia Walker
This exhibition was presented by York Hospital, with support from Southern Maine Health Care.