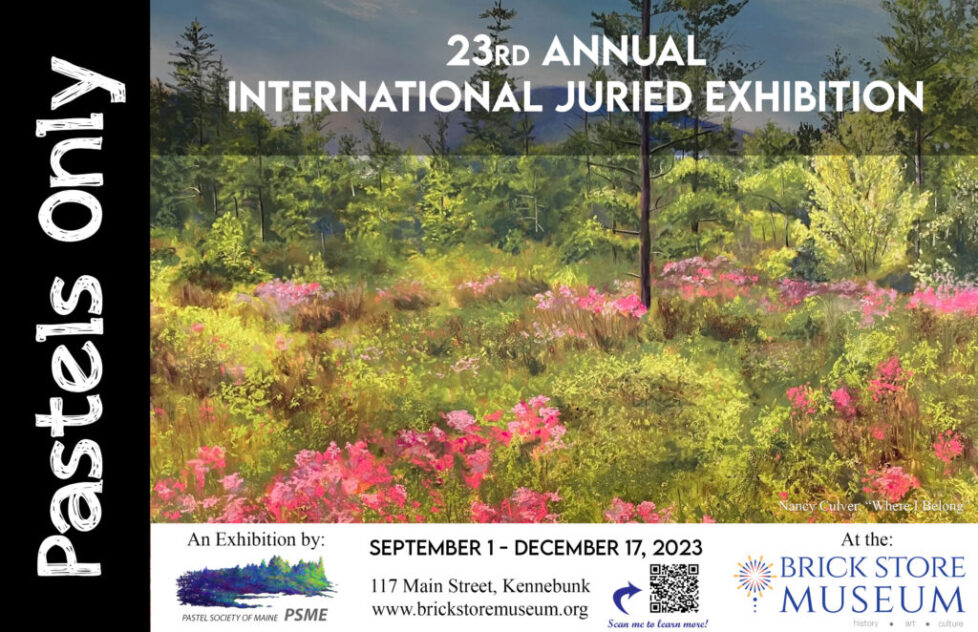 Opening on Saturday, September 1st, the Pastel Society of Maine's 23rd International Juried Show: Pastels Only is organized by the Pastel Society's Exhibition Committee with artist Tara Will as the Juror of Selection. This exhibition (with artworks for sale) will display works of pastel artists from the United States and internationally and closes December 17th.
The show features over 60 stunning works representing Maine artists as well as national and international artists. All included paintings are original soft pastels, no larger than 45" x 45" framed. During the public opening reception and awards ceremony on September 9th, the Pastel Society of Maine will present awards to the artists selected by Tara Will.
"We are honored to be the venue for this prestigious exhibition," said Cynthia Walker, the Brick Store Museum's executive director. "The last time we welcomed the International Show was 2017, and I think visitors will be impressed and delighted with the wide-ranging styles and subjects—from still lifes and portraiture to landscapes in every season."  She adds that the show closely allies with the museum's own artistic heritage, having been founded in 1936 by artist and patron of the arts, Edith C. Barry.
The 23rd International Juried Show: Pastels Only is open to the public during regular museum hours: Tuesdays through Fridays, 10AM – 5PM, Saturdays, 10AM – 4PM, and Sundays, 12PM – 4PM. For more information on related pastel programs and workshops for children and adults this fall, visit brickstoremuseum.org.
The Pastel Society of Maine (PSME), originally established in 1999 as the Pastel Painters of Maine (PPOM), promotes public awareness of pastels and creates a network for local and regional pastel artists. The International Juried Exhibition "Pastels Only," an annual event since 2000, includes a workshop conducted by a nationally-known pastel artist who also judges the show.  For more information on PSME, visit www.pastelsocietyofmaine.org.
Thanks to our incredible exhibition and award sponsors: