The Dwellings Project: a study of insignificant significant places and spaces in the Kennebunks
Hi there, let me start by introducing myself. My name is Elizabeth Winter, and I am the selected
artist in residence for the Brick Store Museum summer 2023. I live in Kennebunk with my family
and love exploring and being a member of our town. This in part was one of the reasons I chose
as my focused study for the BSM summer residency to take a closer look at the town and the
structures that make up its landscape.
The dwellings project explores the visual impact of everyday place and space within the borders
of the Kennebunk community. Focusing primarily on the architectural history of insignificant
significant dwellings. There are so many questions that generate from just one shed, farm
house, barn or new construction build. I believe that we observe a greater understanding of who
we are, where we've been and where we are going as a community based on the dwellings that
stand. Many buildings have created the visual fabric of our town and contribute to the energy of
our everyday life. Oftentimes being overlooked.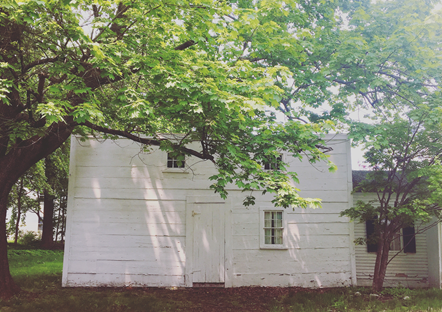 A visual landscape creates the overall feel for a place and space. Many times structures go
unnoticed because they blend in or have just become part of the town tapestry. But I look at
structures as the bones that hold the community together and create the spaces where the
community experiences life. This is what I am exploring in the town of Kennebunk. Starting my
project I took several days scouting out sites that held meaning to me within the town lines.
Conversation soon followed with locals to discuss what spaces and places held meaning to
them. Many conversations lead to common locations that also matched up with mine. This is
when I started going out and photographing different structures/ dwellings in town that had
'made the list'.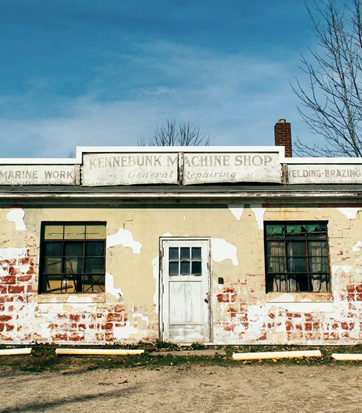 After narrowing down the locations of study I started planning out my work. First, coming up
with a list of questions I wanted to ask about these spaces. For example: Is this space inhabited
or inhabitable? What materials make up this structure? What is the driving reason for interest in
this place? Is this a long-standing structure or part of the recent new builds? Is there a use for
this space or just part of the landscape? This list of questions assisted me in the designs and
material planning for the pieces I'm creating. From these questions and answers I started
creating abstract blueprints. I'm calling them blue prints because the pieces created are inspired
by 3 dimensional structures and put back into one dimensional forms and then built up again.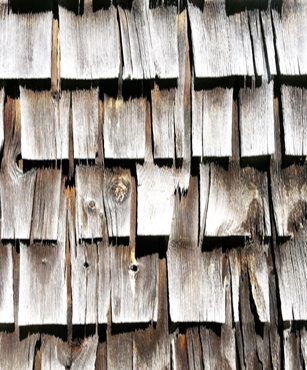 The pieces that are being created out of this project are built using a mix of materials. Canvases
are constructed using a combination of wood scraps, shims, modern building materials and
gesso. Then layers of wallpapers, fabrics, and other dwellings materials are added. The canvas
once completed takes on the look of an abstract topographical map or a quilt appearance. Each
canvas is created to highlight a different dwelling in Kennebunk and no two are alike.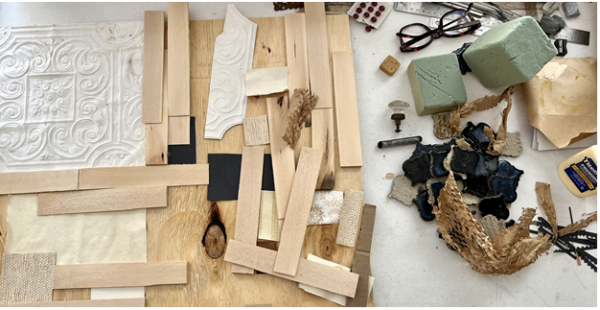 In addition I have been carving wood block prints of selected of the highlighted locations.
Showcasing the same properties in a different artistic form. All prints will be on found papers
and copies of maps from the town records. In the following weeks I will be working closely with
the Brick Store staff to research historical significance to the locations selected for the work.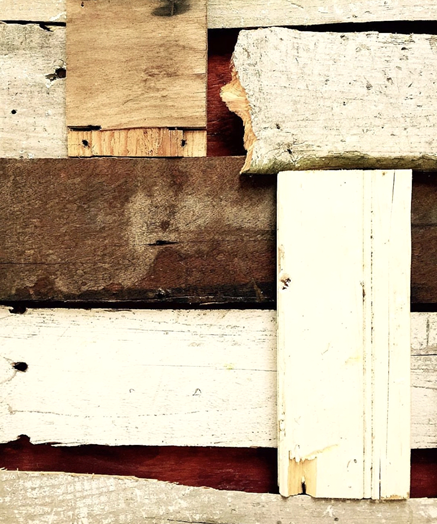 I don't want to give away too much as I would love to have people experience the work and the
final show in April for themselves without too many preconceived opinions. I hosted a
mixed media workshop at the Brick Store Museum on September 30th in which participants
learned more in depth about my process. Participants created their own mixed media
canvases and finished artwork using materials that hold personal meaning. I look forward to
discussing this work with the community of Kennebunk.