Nelle Laux Kozodoy (1913-2014) was born in Pittsburgh, Pennsylvania, the fourth of six children. She grew up in Avalon, Pennsylvania and after graduation from high school she moved to Cambridge, Massachusetts, where she earned a degree in nursing from Cambridge Mt. Auburn Hospital. In Cambridge she met her future husband, Dr. Max Kozodoy.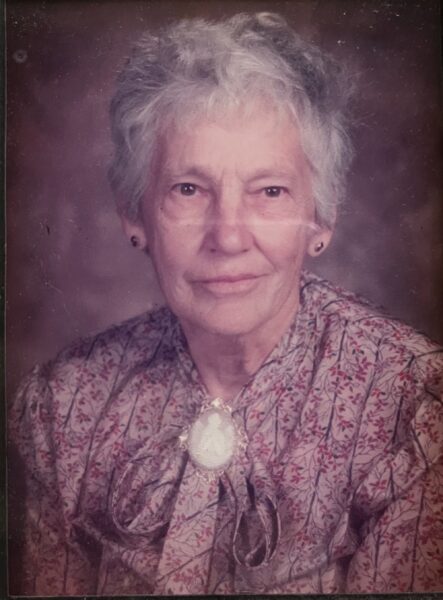 Nelle had a love for music, art, poetry, architecture, and gardening. After she and Max moved to Portland, Maine in 1976, she became a docent for Greater Portland Landmarks. In this role, she conducted walking tours and educated countless people of all ages about historic Portland. She was also an active member for many years of the Portland Community Chorus. Outgoing and of strong passions and opinions, she enjoyed life to the fullest and thrived on interpersonal connections. Any holiday was an excuse for hosting gatherings for family and friends, filled with music, lively conversation, and good food.
Among her family and friends, Nelle was well known for phrases that exemplified her no-nonsense approach to sharing her thoughts and opinions. She taught her nine grandchildren from a young age that if they wanted to drink coffee (her favorite beverage), they had better not adulterate it with cream or sugar. "Coffee is a beverage, not a confection" was her declaration, and that rule has now passed to her great grandchildren as well. No matter how large a gathering she had for a dinner or party, guests were forbidden to help with the dishes. If she caught a guest surreptitiously washing a plate, she would yell, "Get the hell out of my kitchen!" and the guest would swiftly comply. Well into her 80s, Nelle continued to engage actively in the community and to maintain an interest in the world. She provided a vivid example to her grandchildren of how to make the most of life.
– Honored by Anne Cressey