Between the 1500 and 1800's people used clay pipes for smoking tobacco. Clay pipes were mostly used in America and Europe.
Sometimes, archaeologists locate clay pipe fragments. These broken pieces are the result of early smokers breaking off the tips of their pipe stems. When pipe stems became clogged with tobacco resin, the smoker broke off that portion and threw it away.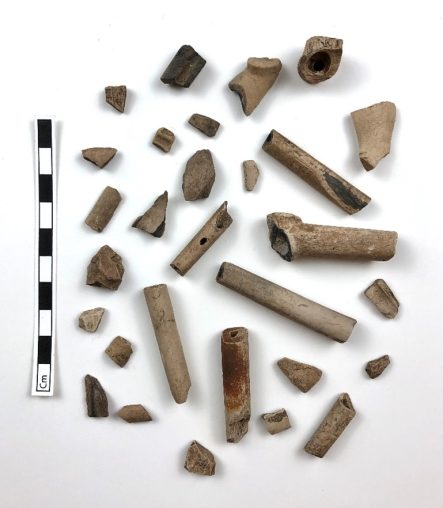 Some clay pipes are ornamental while others are plain. Some have identifying marks while others do not.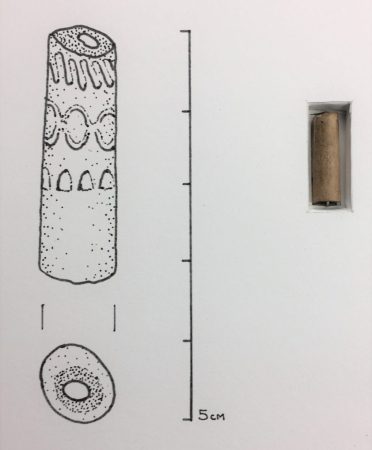 This fragment, enhanced by an artist's drawing, shows an ornamental design that encircled the pipe stem. This decoration was added to the pipe stem by a "roulette" when the pipe was being made and the clay was still wet.
In some cases, ornaments or impressions can help determine the time period the pipe was made. The fragment on the left (below) has the initial PE which means Prince Edward. Prince Edward pipes were made after 1649.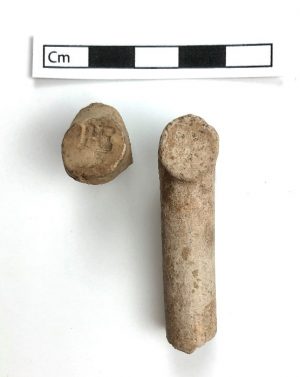 Another method of dating clay pipes is to measure the interior hole size of the stem. In the 1950's, J.C. Harrington studied thousands of pipe stems from archaeological sites and concluded that pipe stems could be dated based on their interior hole or bore size.
Harrington published that early pipe stems (1590 to 1620) had larger holes than later pipe stems. In fact, Harrington categorized pipe bore sizes into six time periods.
Time Period                         Diameter
1590 to 1620                      9/64 inches
1620 to 1650                      8/64 inches
1650 to 1680                      7/64 inches
1680 to 1720                      6/64 inches
1720 to 1750                      5/64 inches
Many times, archaeologists use a simple tool to age a clay pipe stems.
They construct a bore gauge by placing six drill bits ranging from 4/64 inches to 9/64 inches in a block of wood.
When locating clay pipe stems, they carefully place the pipe stem fragment on the drill bit that corresponds to a time range in which the pipe was made.
During an excavation in Cape Porpoise, archaeologists located broken clay pipe stems.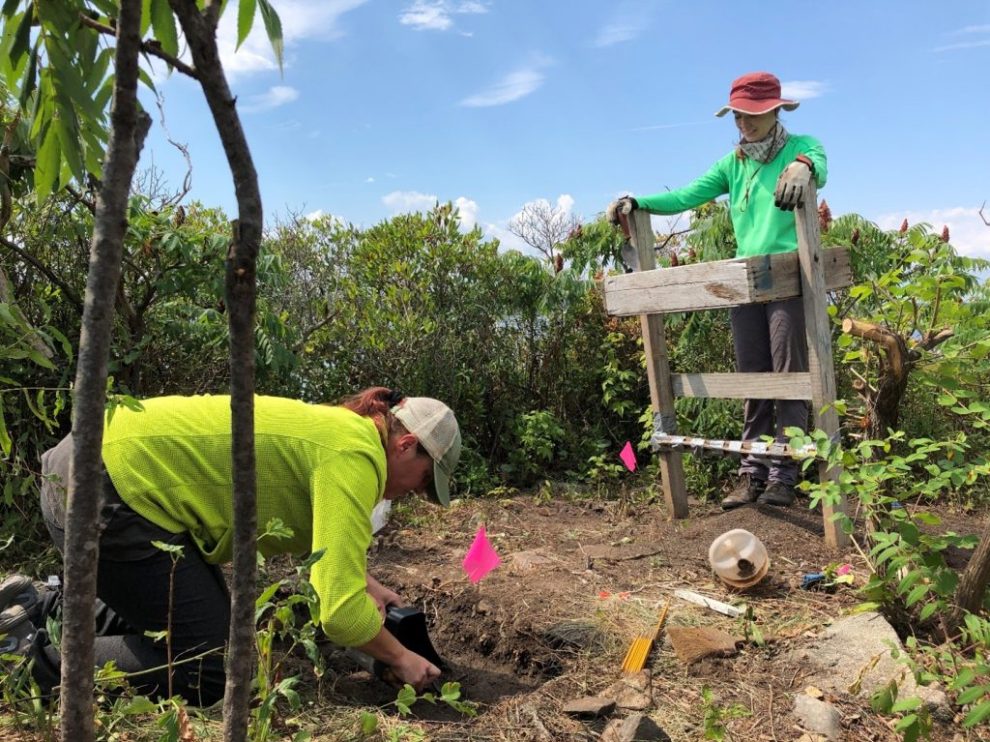 The excavation took place on an island where historical records suggest an English Fort stood in the mid to late 1600's.
The clay pipe stems that were located were consistent with that time period. Using the Harrington's gauge method, pipe stem bores measured 7/64 inches which corresponded to between 1650 and 1680.
Pipe stems can help archaeologists date archaeological sites. Although pipe stems can help archaeologists, large numbers of pipe stems are needed for scientific accuracy. However, for the archaeologists working in Cape Porpoise, probable time frames as documented in historical writings are consistent with pipe stem ornamentation, stampings and bore size. More research to follow.