Archaeology Programming at the Museum
---
Who makes History? How Peoples, Museums and Archaeology Can Tell the Full Story
(July 2021 – March 2022)
---
This exhibition in the Museum's second-floor galleries explores the Brick Store Museum's own collecting history and how museums can change with the help of two local archaeology projects now underway to help expand our community's history.
The concept of American museums held roots in European precedent: collecting objects worthy of study by the elite class who could afford to spend time exploring their world. Showing off collected items fueled public fervor for museums. This means that museums developed through a colonial mindset; a perspective of the majority community (mostly of European descent) that often ignored or misunderstood the stories of Black and Indigenous peoples when creating a national  "origin story."  In the first gallery visitors will encounter typical donations to the Brick Store Museum in its first years of existence (1936 onward).  Real newspaper clippings from the time show Museum announcements of what was donated, who it came from, and sometimes, why it was important to collect.
On view in the adjoining gallery are artifacts uncovered through two archaeology projects, one uncovering the history of the indigenous people in the area and the other at the site of Kennebunk's historic formerly enslaved people's community (c. 1785-1830), a  significant archaeological resource because it is one of a very few known to exist in Maine. What makes it particularly unique is its early time period, which immediately followed emancipation.  The narrative that can be told from careful archaeological investigation is of extreme importance in helping create a more complete history of the region.
As we begin our journey of decolonization in our exhibits and programs, this means we are opening up the historical narrative and museum work to community members who can help make this Museum, and the stories held within it, stronger and more expansive.
---
Cape Porpoise: Archaeology in the Archipelago
(February 2021 – May 2021)
---
Explore 8,000 years of artifacts uncovered during recent archaeological investigations conducted by the Cape Porpoise Archaeological Alliance (CPAA). Learn about Indigenous stone tool technology and the science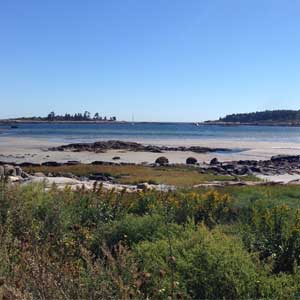 of archaeology in the Brick Store Museum's exhibit.
A highlight of the exhibit is the remains of the oldest dugout canoe ever found in the Wabanaki homeland of the Far Northeast, first identified in 2018 and painstakingly excavated in the summer of 2019 by CPAA. Carbon dating places the canoe between 1280-1380 C.E.
CPAA was formed in 2016 to conduct scientific archaeological research on the islands and intertidal zone of the Cape Porpoise Archipelago. CPAA is a collaboration between the Kennebunkport Conservation Trust and the Brick Store Museum, in which a team of professional archaeologists works with citizen scientists to conduct archaeological surveys and excavations. Over several seasons, a variety of objects have been uncovered from Wabanaki stone tools to early Euroamerican pipe stems, revealing histories of culture and colonization on the land we now call Maine.
Below, you'll find a video created for the exhibition explaining more about the project: